July 24, 2016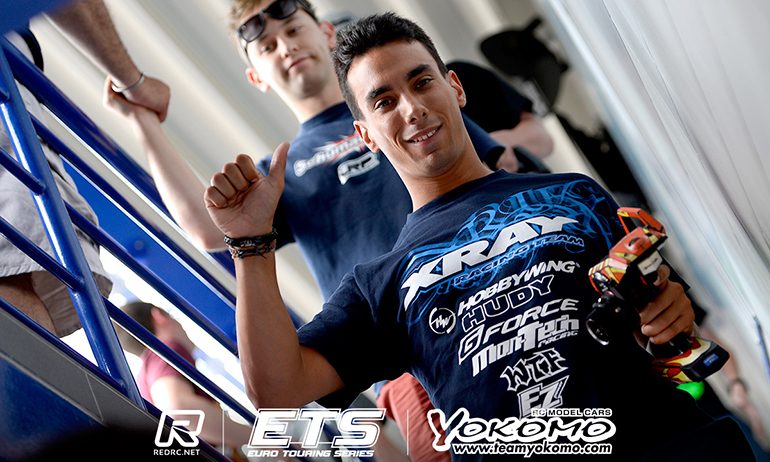 Having clinched the Yokomo Euro Touring Series title yesterday when he claimed his third TQ of the season, Bruno Coelho today capped off his title winning campaign with a third win.  Winning one of the most static A-Mains in the ETS' 51 race history yesterday, not one position change taking place over the 5-minutes, Coelho again headed an Xray 1-2 to wrap up an early win at the Hudy Arena in Slovakia.   While up front the race was a repeat of A1, after initially looking like another 10 car procession the race came to life as Ronald Volker tagged Viljami Kutvonen as the pack backed up behind the Awesomatix driver.  Surviving the tag to maintain third the Finn would later spin out at the end of the straight, him reporting afterwards he felt he got a bad set of tyres highlighting his 7th place starting team-mate Freddy Sudhoff being 4/10th a lap faster than him.  While Volker, who said his car was 'amazing' would recover two of the positions lost after his contact with Viljami, an attempt to pass to Marc Rheinard for third 'didn't work out' dropping the outgoing champion to P6.  A much improved Rheinard would hold on to third followed by Yannic Prumper and the Serpent of 9th place starter Viktor Wilck.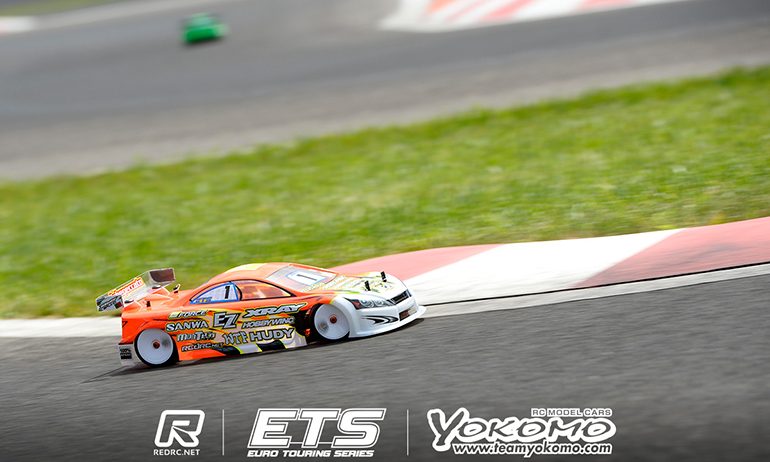 Commenting on his A2 win, Coelho said, 'It was again a bit easy.  Alex made a mistake at the beginning and this gave me a lot of space'.  Posting the fastest lap of the race with an 18.293 to pull clear, the Portuguese driver would control the race, even able to finish with a slow 19-second last lap before celebrating with a victory donut, his second consecutive ETS season finale victory at his team's home track. Summing up the weekend, the offroad World Champion who goes into the Touring Car World Championships in China next month as one of the title favourites, said 'my car was perfect all weekend'.  He added,  'I made no mistakes and had no problems with the car.  It was a great way to finish the championship'.
Posting his fastest lap of the race on his final lap, Hagberg said his 'car was too loose at the start'.  The Nitro Touring Car World Champion who will defend that title in Italy in 2-weeks time, added his ORCA powered T4 was 'loose on one side like it is tweaked'.  Suffering 'a small mistake on the first lap' this 'cost a lot of time'.  Set to lead away the grid of the closing race of Season #9 as Coelho sits out the race, the Swede said, 'I'll try to fix the (the car) for A3 and protect my second place (for Round 6)'.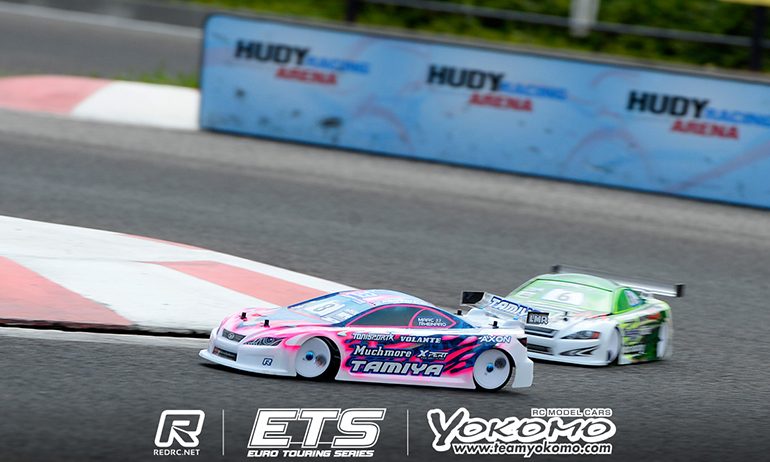 'For sure better than yesterday' was Rheinard's reaction after A2.  Having had trouble with his race car in the first qualifier and then switched to his spare car, the Tamiya driver reverted to his 'better car' which with some set-up changes helped him find 2/10ths of a second a lap.  Starting behind Sudhoff, the 4-time World Champion said he lost time on the opening lap behind the 'struggling' Awesomatix driver.  Getting by when Sudhoff made a mistake on lap 2, Rheinard said he then benefited from 'a small crash and came out fourth' and that become third when Viljami spun out.  With his lap times now 'pretty much same as Alex and Bruno', he concluded, 'maybe we went wrong with (changing) car and set-up before'.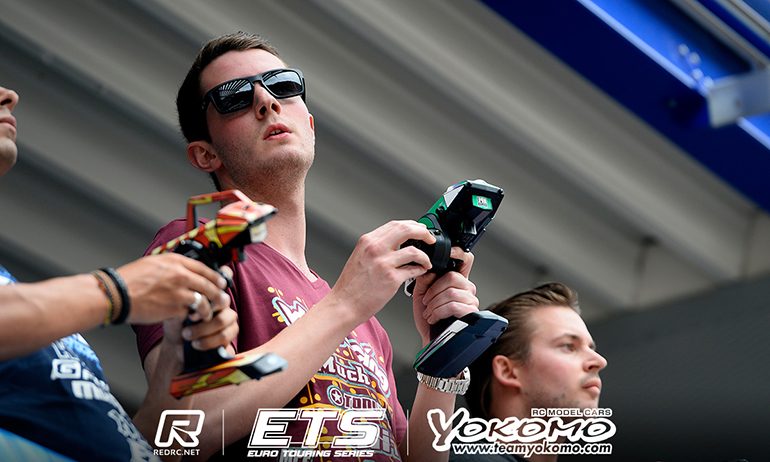 'At least not a boring final' was Prumper's view of A3.  Making his first ETS A-Main appearance as a VBC Racing driver, the former race winner said his car was 'loose on the rear at the beginning'.  Also suffering from a slipping belt, the German said this left him 'lacking forward traction' and this is why he 'couldn't pass Marc' for 3rd.  Planning to 'change everything for the next final', he is confident he'll have a car with which he can overtake.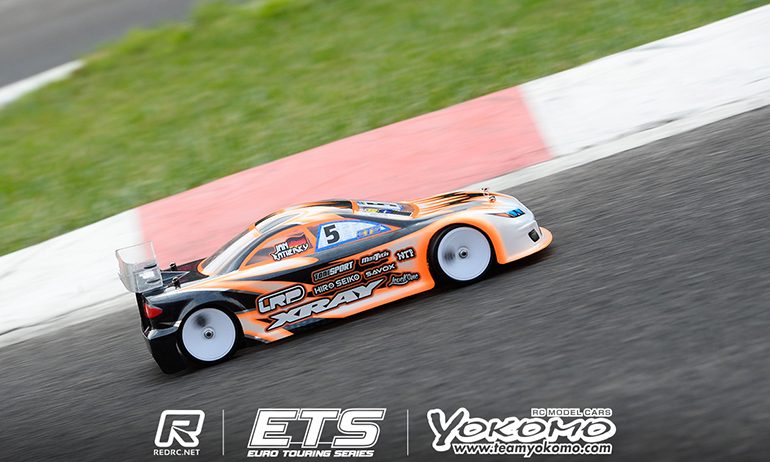 In the Pro Stock and Formula classes it looked for a time that both overall race winners would be decided also in A2 however some great passes meant they go to A3.  In Pro Stock, Top Qualifier & A1 winner Tom Krägefski made a break at the start but got chased down by Noah Asendorf who got by the end of the straight.  It was short lived for the Swiss driver as he then made a mistake coming onto the straight.  This left Marco Siegenthaler as the new challenger but he would make contact with the rear of Krägefski ending both drivers chances of the win with champion Jan Ratheisky there to pick up the pieces and take the A2 win.  In the Serpent Formula encounter, Ratheisky seemed to be business as usual but Roche driver Olivier Bultynck made some impressive passes first on David Ehrbar and then on the champion to take the win and aim to become the first driver to beat Ratheisky this season to an overall win.  Ehrbar won in Luxembourg but Ratheisky was forced to miss that race due to a shoulder injury.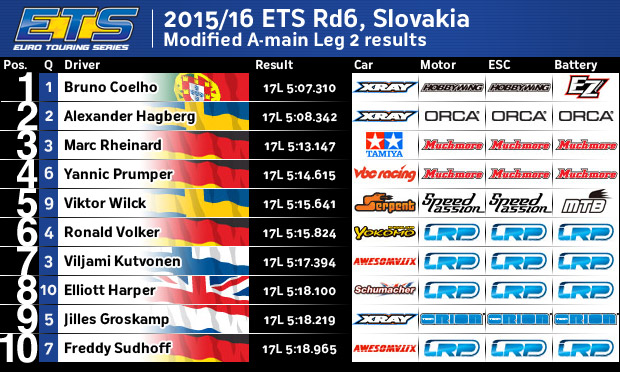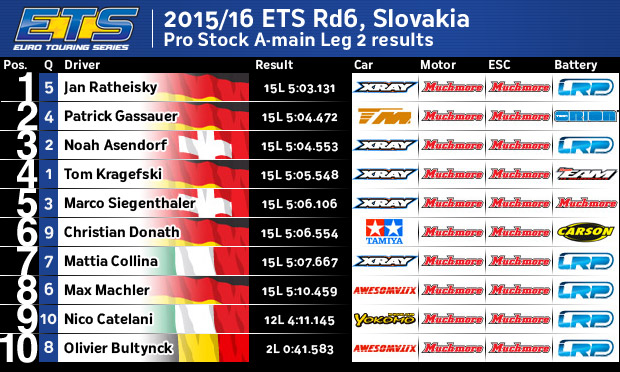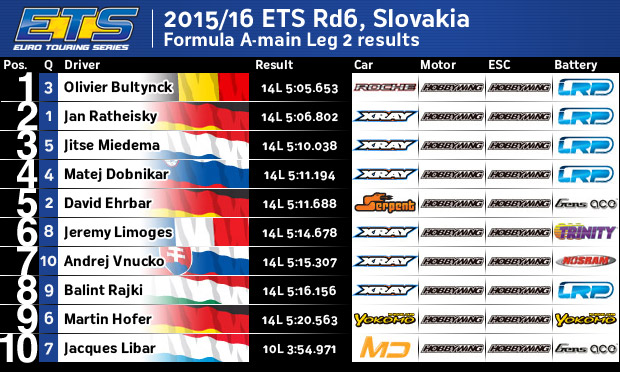 View the complete event results here.
View the event image gallery here.
---