July 30, 2017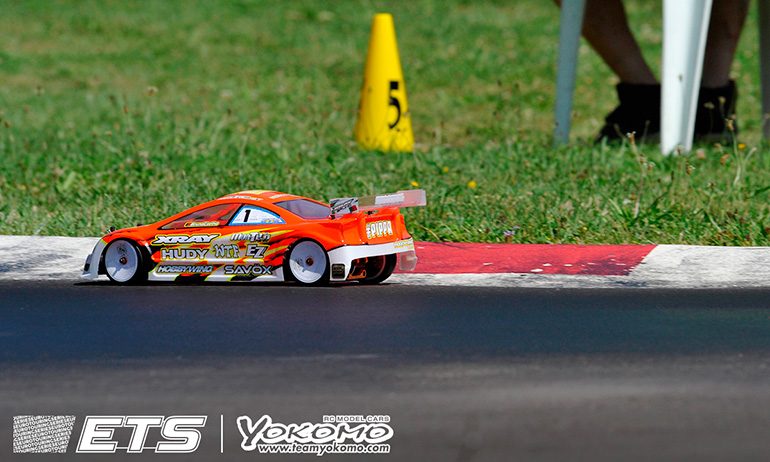 Back to back Euro Touring Series Champion Bruno Coelho has capped off his title winning campaign with a record breaking 5th win of the season at Minidrom Ettlingen in Germany.  Top Qualifier for a 5th time in Season #10, the Xray driver wrapped up his 10th ETS career win with another dominant drive in A2, this time heading home team-mate Tim Wahl.  Behind the Xrays, contact between the two Infinity's of Naoto Matsukura and Marc Rheinard would mix things up a little allowing Ronald Volker through to third.  In the end Matsukura would take back the position from his former team-mate to complete the top 3 after seeing off a final corner pass attempt by Mugen's Robert Pietsch.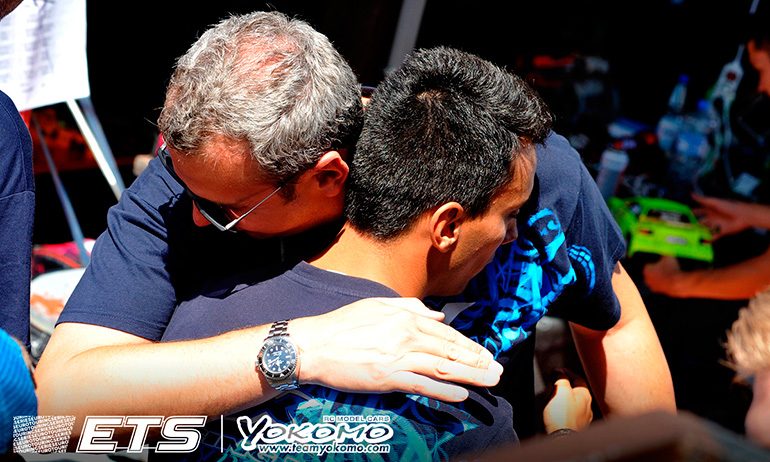 Reacting to his A2 performance, Coelho said, 'I started very strong, the car felt perfect over the first 3-laps and I already had a lead of something like 1-second so then I could just manage the advantage'. Celebrating his overall win at a hot Ettlingen with some ice cream, he said, 'The goal is always to win every time and learn & develop.  I was not 110% prepared for this race because when I came here for testing it rained so I'm super happy with today's result.  The 5 wins are the result of all our work over the year. I have to thank Francesco (Martini) for his perfect job all season and also all my sponsors as we all work in this direction'. With Montech's new Racer bodyshell making a big impact this weekend, he continued, 'I am happy with Montech's new body.  Six cars used it in the final which is very positive step'.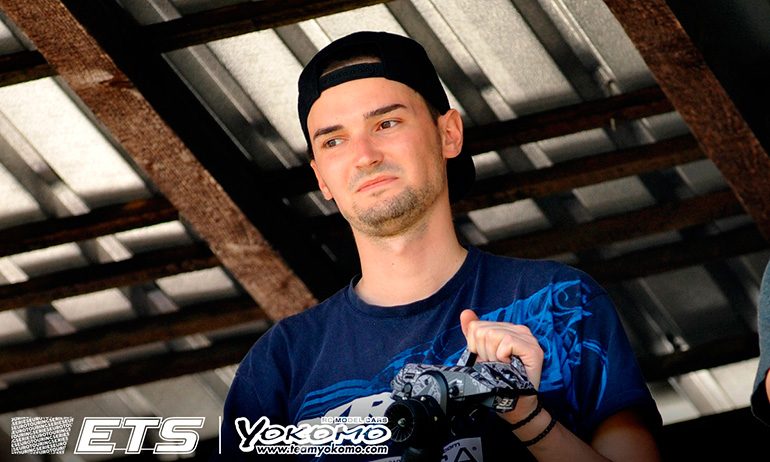 'I don't think I was at any time before as nervous as this time' said Wahl after A2.  Doing an impressive job to qualify second for his first ETS outdoor A-Main appearance, the German who wasn't comfortable with the conditions in A1 said this time, 'everything was perfect', it having got hotter since the morning's opening encounter.  Looking strong now for his first podium finish he said, 'for sure the aim is the podium but Marc and Naoto know Bruno will not race (A3) so they will be looking for a (leg) win too'.  The 22-year-old concluded, 'I will try my best and see what happens'.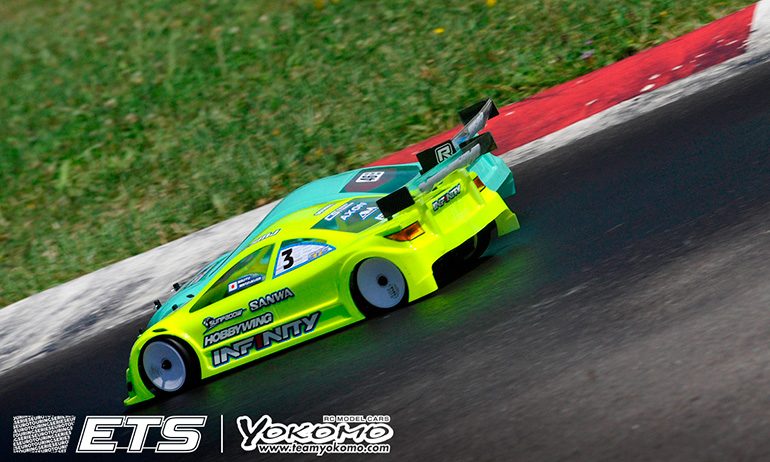 Matsukura declared himself 'lucky' to get third in A2.  Surviving getting tapped from behind by Rheinard and then eventually getting by Volker when the Yokomo driver had a half spin while under pressure from his fellow former World Champion.  Describe the hit from Rheinard as a 'race accident', the Japanese driver said, 'my car was pretty good after that but then I had a mistake on the straight, I was super lucky to get away with it'.  It was this moment that let Pietsch close him up, the separation at the line just 2/100ths of a second.  Looking to better his 3rd place at the previous round at the Hudy Arena, Matsukura said the plan for A3 was to 'pressure him (Wahl) at the start and hope I can get a good pass with no contact'.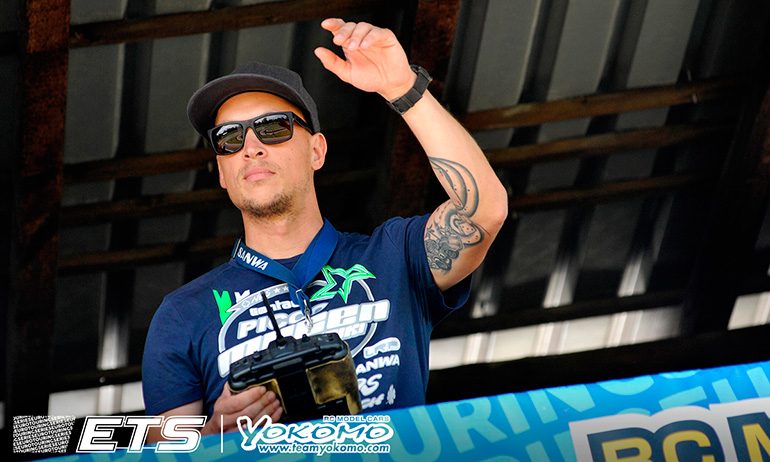 'Nice races', was Pietsch's reaction after A2.  The nitro World Champion has been making a big impression on Mugen's ETS debut with his new MTC-1 touring car and is showing he is not afraid to mix it with electric's best racers.  Asked about getting up to 4th position from his P6 starting position, he replied, 'I don't know how it happened. I just wanted to keep it clean and it was working out'.  With the racing on track a lot closer than normally experienced in nitro, and this only his second EP outdoor race he is enjoying the experience saying, 'I have the feeling everyone is careful and won't make stupid moves so its nice to race like that and I think its good for the spectators too to watch'.  On his attempted pass on Matsukura he said, 'he went a little outside at the hairpin so I saw a gap but I didn't accelerate enough'.  For the closing race of the season he will make a speedo setting change, feeling he was down a little in top speed compared to the others. Behind Pietsch, Rheinard would finish 5th followed by Volker.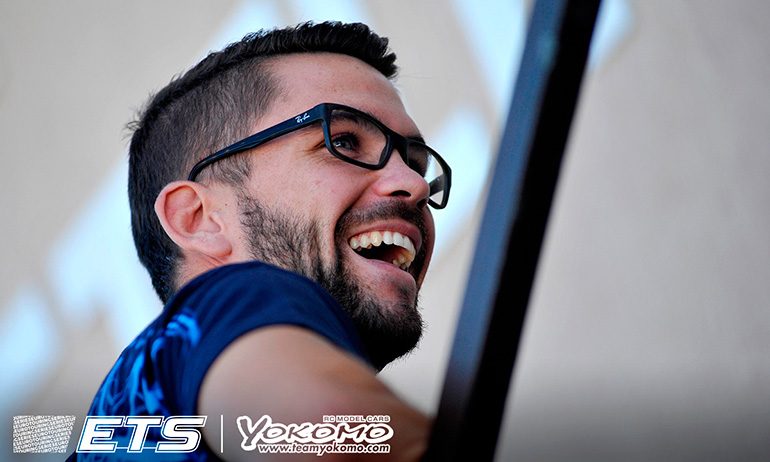 While little happened at the front of the Volante Modified encounter, A2 of Xray Pro Stock would see French ETS season rookie Alexandre Duchet take the title and make fans among onlookers as he pulled off an impressive pass on title rival Olivier Bultynck.  Having won A1, Top Qualifier Bultynck looked like he was on target to take the overall win but on the last lap Duchet got down the inside of the Awesomatix driver in the infield to make it a dream debut season as he retains the title for Xray.  In the Scorpion Power Formula class, Tim Benson wrapped up his first overall ETS victory taking his Serpent to the A2 win albeit by a smaller margin second time round from Infinity's Jitse Miedema who was closing fast on the German over the closing laps. Bultynck completed the Top 3 while Jan Ratheisky retired meaning it is David Ehrbar who is the overall champion making it a great day for Team Serpent.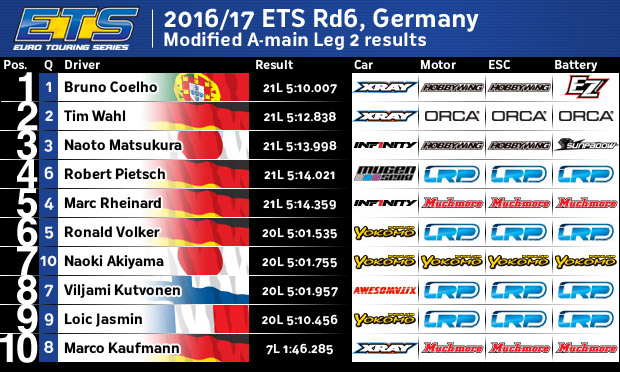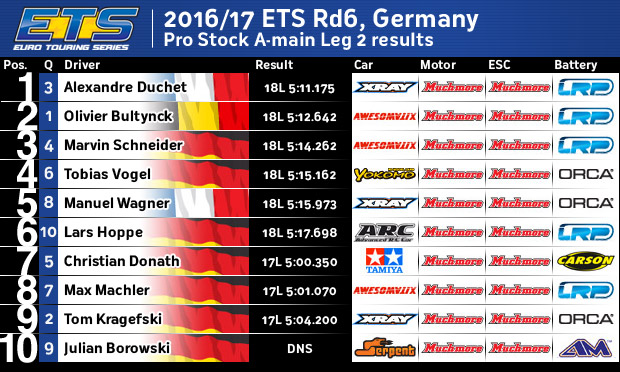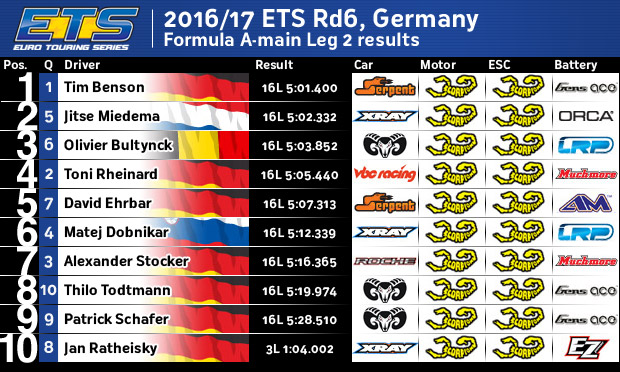 View the complete event results here.
View our event image gallery here.
---