February 4, 2018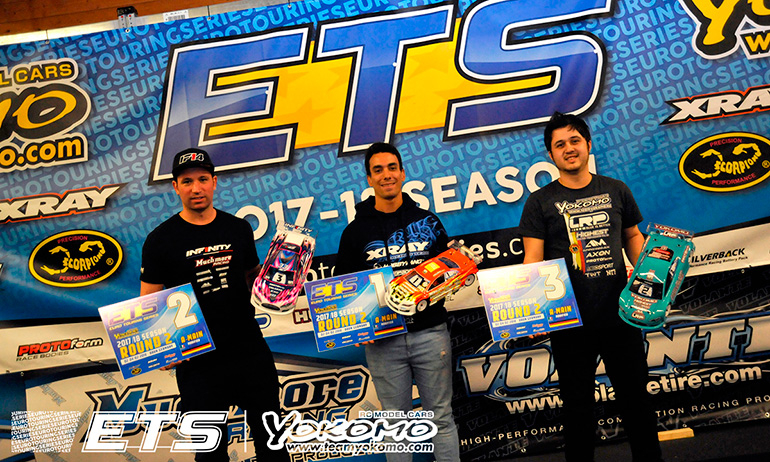 Marc Rheinard grabbed 2nd overall with a late victory in A3 over Ronald Volker at the Euro Touring Series second round in Germany, a result that sees the Infinity driver share the championship lead with race winner Bruno Coelho.  With Coelho wrapping up his 11th ETS career win in A2, the closing race of the first ever event at Daun was a dual between touring car's two great rivals with Volker leading away the 9 car field, Coelho watching from the sidelines.  Off the start immediately Rheinard had Volker under pressure but a mistake by the former looked to decide the result when he put his car on its side at the same corner that would later determine the final podium order. Managing to right the car himself, the deficit looked too big but a determined Rheinard was closing. A slight mistake from Volker then set-up the final showdown and with two laps to go Rheinard slid his car down the inside of the Yokomo, contact sending an unhappy Volker wide.  With Volker getting caught at the line, the final lap was a lap of victory for Rheinard.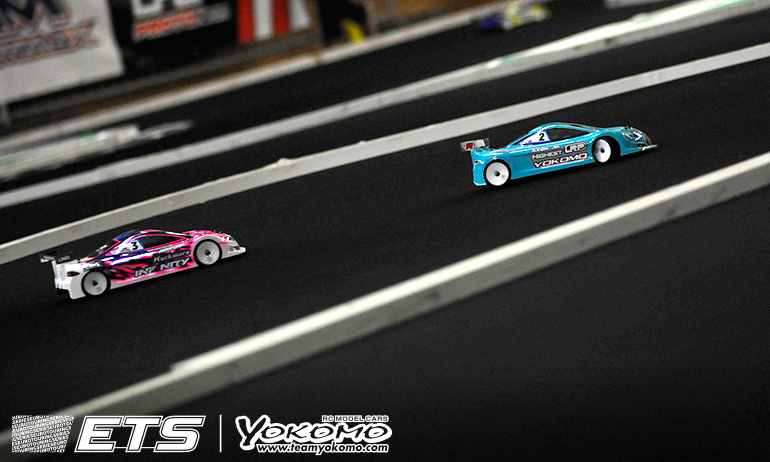 Reacting to his second place, Rheinard said, 'Its the perfect ending, well obviously 1st would be best but now myself and Bruno have a TQ and a 1 & 2 each.  To end the carpet season on the same points is a good start'.  A driver who is openly not a huge fan of carpet racing, on A3 he said, 'I refreshed my shocks before the race and the car felt even better than before.  I was really confident because I knew I was a little faster than Ronald but then I rolled, luckily it landed on the tyres.  After that I just tried to close the gap and I could see at the end of the straight sweeper that I was closing the gap.  One time Ronald went wide and in this direction it was at the only corner on the track where you could make a pass'.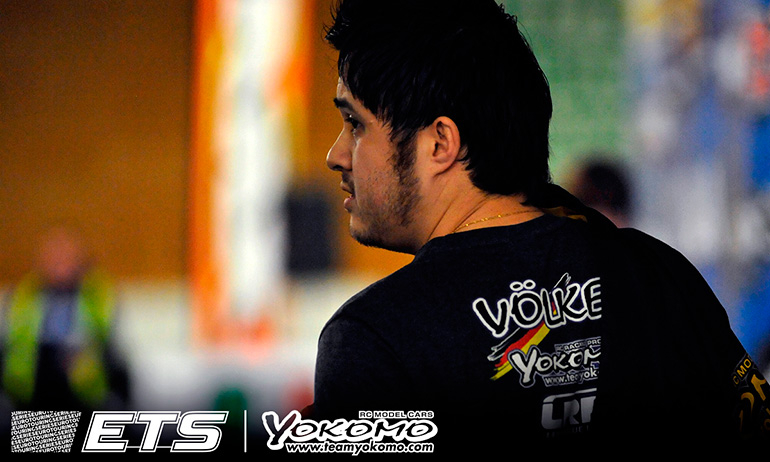 'Disappointed to finish 3rd' was Volker reaction.  He continued, 'the car pushed quite a lot in A3 and that's why I was under pressure from Marc'.  The World Champion was also not happy with his rivals move. 'It was not a clean pass. My car flew into the barrier, sure I went a little wide the corner before the hairpin but I was still ahead. He basically forced his way through.  Sure he had to try and there was a big gap behind us but my car flew way too far so in my opinion it was not ok.  The referee said nothing so I have to live with it'.  Despite his grievances, he concluded, I'm happy with the team result. We made the podium in both Modified and Pro Stock and a great job from Bruno. He was a deserving winner this weekend.'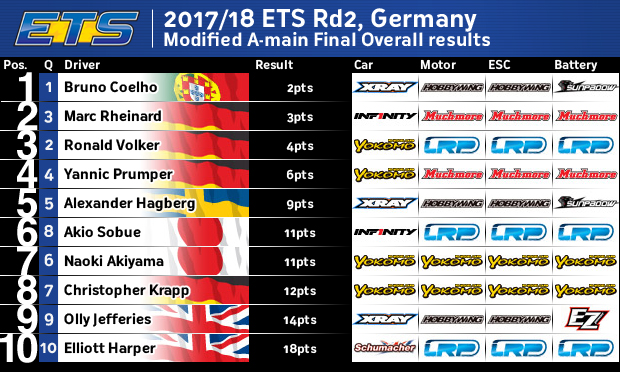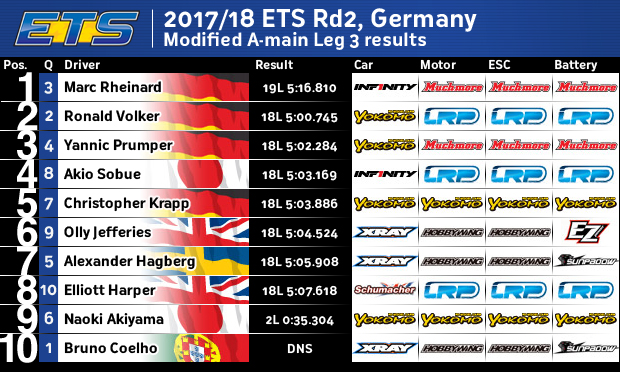 View complete event results here.
View the event image gallery here.
---