April 14, 2018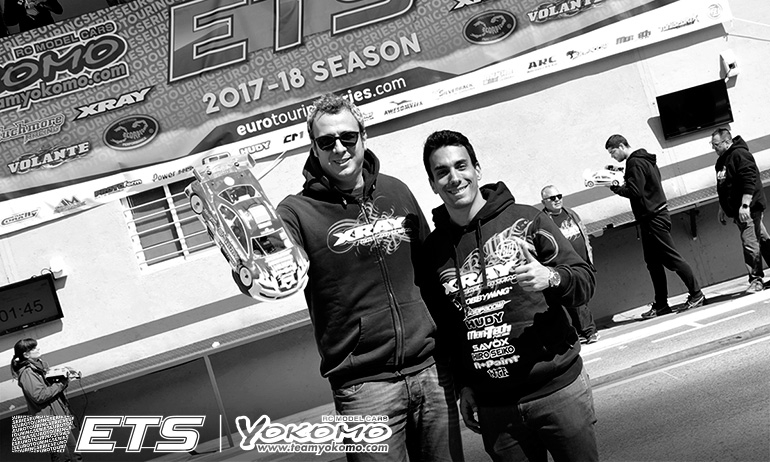 Bruno Coelho is the Top Qualifier for the first outdoor race of this season's Yokomo Euro Touring Series, the fourth & final qualifier in Spain just a formality in confirming what was already decided in Q3.  With drivers reduced to just two sets of tyres for qualifying this weekend, it effectively meant each driver had two chances with Coelho delivering TQ runs on both his attempts and Ronald Volker only get a TQ and a P2 from his new tyre runs. Q4 did however throw up one big surprise as Alexander Hagberg took advantage of holding out on running his second set of tyres to post a TQ run ahead of Coelho, who was on used tyres, and jump from the back of the A-Main grid to third behind behind his Xray team-mate and Volker while demoting Christopher Krapp to fourth.  Freddy Südhoff will complete the top half of the grid while, having come into the weekend sharing the points lead with Coelho, Marc Rheinard is going to have his work cut out for himself to get a good result from 8th on the grid.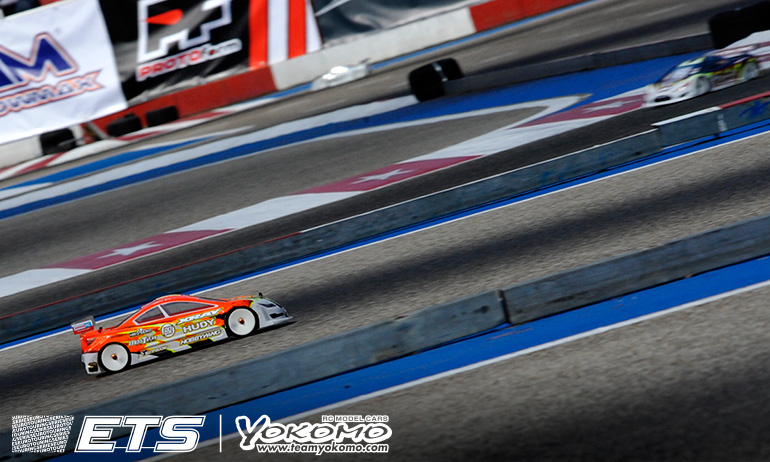 Finishing 2.7-seconds off Hagberg's pace but still managing to be quicker than Akio Sobue, Rheinard and Yannic Prümper who were all on new tyres, Coelho said, 'It was a good run for used tyres'.  With the reigning champion now moving clear at the top of the points after picking up the Top Qualifier's bonus point, said, 'I knew it was almost impossible for Ronald to get a fast time on used tyres'.  He continued, 'He (Volker) did have the same pace as me on used tyres all 5-minutes.  He flipped but waited and followed me again to the end and there was nothing between us so for sure its going to be a close race tomorrow.  It will be the same for everyone, every race, because we get three new sets of tyres'.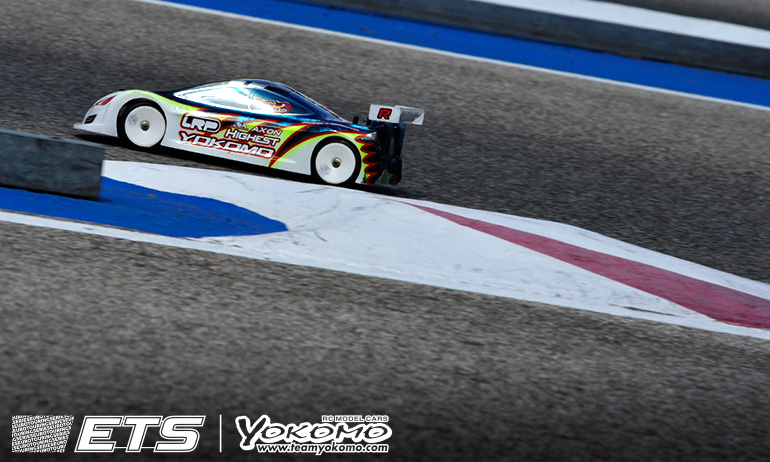 Volker also made a point of highlighting how himself and Coelho were even on pace saying, 'I had the same pace as Bruno and we were both on used tyres so I'm pretty confident for tomorrow'.  Describing Q4 as 'not a valuable qualifier' because of this weekend's reduction in tyres meant the TQ was decided early, the Yokomo driver said A1 could present extra challenges.  He said, 'A1 conditions will be completely different again to today because of how early the race is at so I have to consider set-up changes for this but I will wait and see'.  Taking a much more leading role in the team following recent restructuring, Volker concluded, 'I am glad Christopher got 4th and that Yannic has also made the A-Main, it is a much better start to the outdoor racing for us than the previous season'.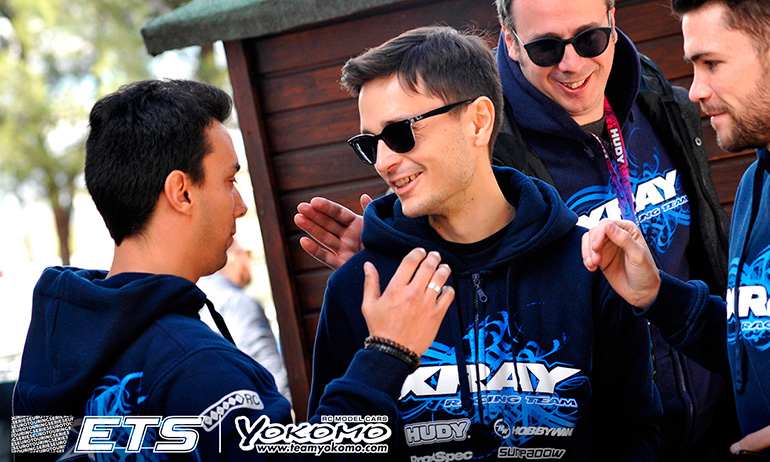 Posting the fastest time of today, but still over 3-seconds off yesterday's Q1 time, Hagberg was very pleased with how his strategy played out.  Having come into the weekend fresh from his 5th consecutive European 1:12 Championship victory, the Swede hadn't looked to be a contender but now very much has a chance of taking his first podium of the current ETS season.  He said, 'On a big track like this the difference between new and used tyres is really big.  We survived Q2 & 3 on used tyres and also worked on finding a better set-up and with this and new tyres the car was perfect that run. It all worked out'.  Looking to the finals, he said, 'I will try to fight for the podium and hopefully we will have some clean racing.  Everyone is going to be on new tyres so it should be interesting'.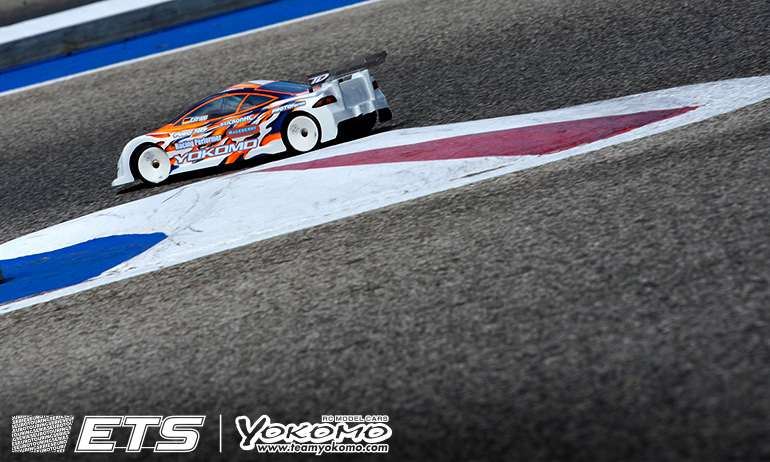 'I'm a little disappointed the Infinity guys were not quicker on new tyres than Hagberg because now I'm starting fourth but I'm excited for the finals', was how Krapp summed up his grid position.  The Yokomo driver's best qualifying result for a number of seasons, the former ETS race winner said his plan for the final is to 'try my best'.  Asked if he liked Yokomo's new aluminium rear C-hubs he tried in Q4, he said the car felt better and compared to when he previously ran used tyres, Q2, he was able to run a faster lap time.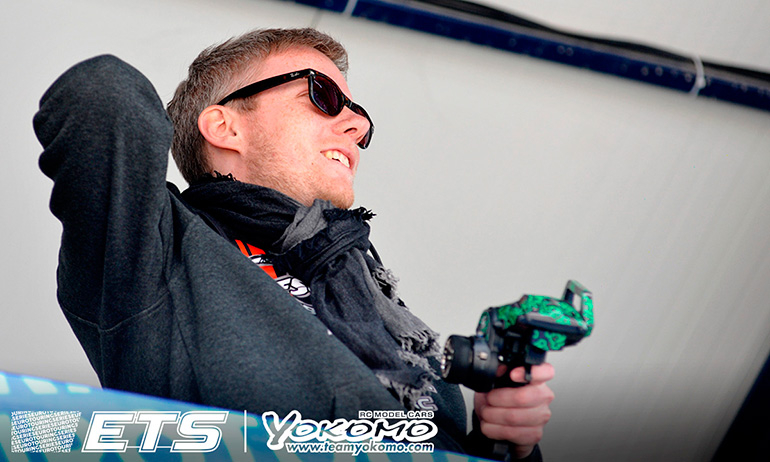 'I'm pretty optimistic to be honest' was Südhoff summary of his performance at the end of qualifying.  Getting his 5th on the grid with his times from the opening two qualifiers on new tyres, the Awesomatix driver said, 'my car is really good on new tyres and we have new tyres for each final'.  Using Q3 & 4 on used tyres to try different set-ups he said his Q1 set-up is what he will run for the final however he did air caution over A1 saying 'it is (on) quite early so it could be quite slippery'. Behind Südhoff, Viktor Wilck lines up 6th for Serpent ahead of the first of the Infinity drivers Akio Sobue.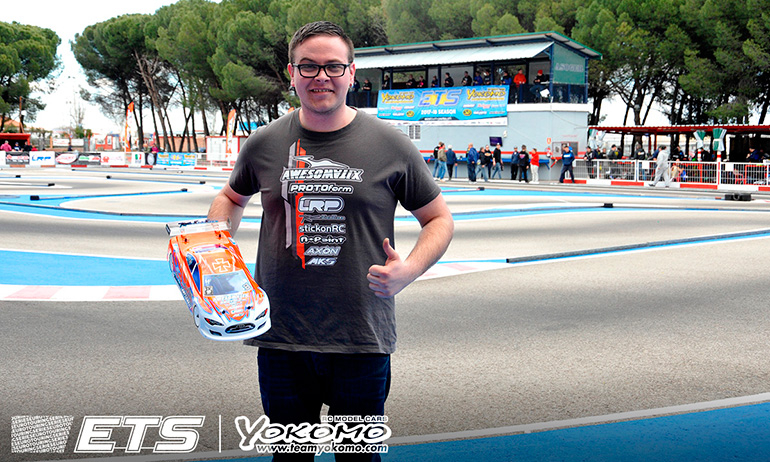 In the other classes it is Max Mächler who is the Top Qualifier in Pro Stock, the Awesomatix driver the fourth different driver of the weekend to post a TQ run, in the final qualifier.  The German will start ahead of Jan Ratheisky's Xray, who took the second qualifier, and Olivier Bultynck whose Awesomatix topped the opening qualifier.  Fastest in Q3, Infinity driver Dominic Vogl lines-up 4th.  In the Scorpion Power Systems Formula qualifying it will be Bultynck who like last year lines up on pole for Team Shepherd.  The Belgian claimed his second TQ run in the final qualifier to bag pole position ahead of last year's ETS Spain winner Ratheisky while Infinity's Jitse Miedema starts third.  In the Infinity +40 Masters class, championship leader Thomas Oehler is Top Qualifier from Beni Stutz and Christian Drießle.  Scotty Ernst will make his race debut in the new for Season #11 class from 9th on the grid.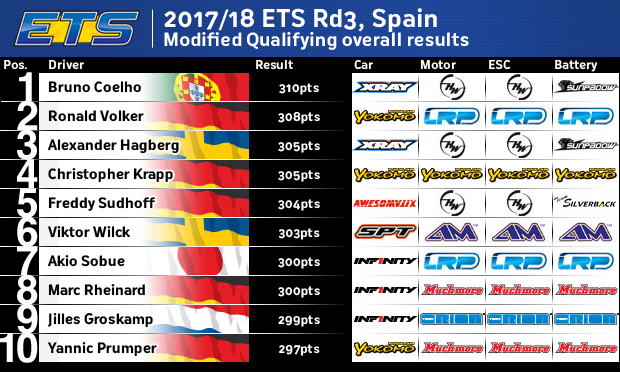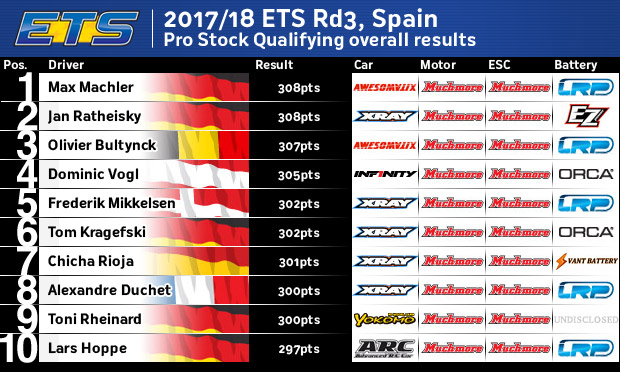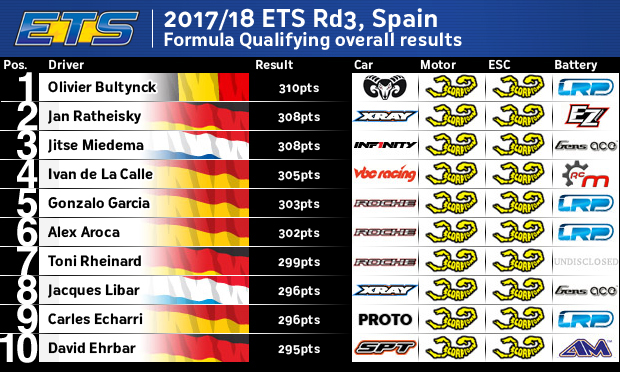 View complete event results here.
View the event image gallery here.
---