May 12, 2018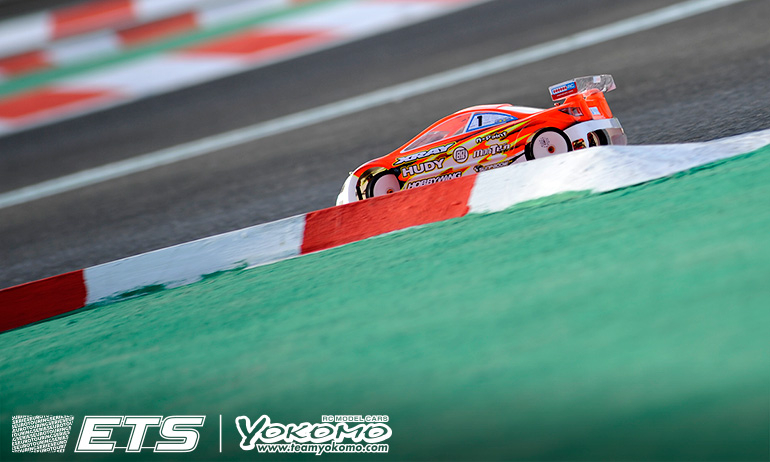 Bruno Coelho resisted another challenge from Naoto Matsukura to take a tone to tone win in the second of the A-Mains at ETS Andernach.  Having let Matsukura through in A1 after touching the curbing, Coelho would have a moment in A2 also, but just beforehand Matsukura had dropped back with a moment of his own.  Right on the bumper of the Xray, the Infinity driver looked to make a late inside pass in the chicane but he went over the curb and rolled allowing Coelho to take it by close to 2-seconds.  As he did in the first encounter, Marc Rheinard would make up one position to complete the Top 3, this time ahead of Alexander Hagberg.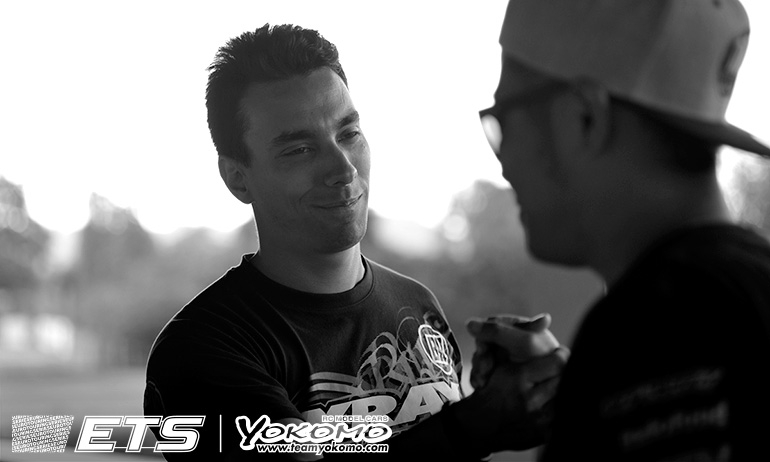 'For sure that was a hard final, one of the hardest I've had', was Coelho's summary of A2.  The reigning champion continued, 'Naoto was faster than me for the first 2-minutes. It equalled out then but he was still faster. Steering in the right side is the still a problem for me and that is where he was faster'. With Matsukura not a title candidate, the Portuguese driver said, 'we made a lot of changes and they were not successful but I am still happy with the win.  At least we will come away with 2nd plus the TQ point for our first time here and that's good for the championship'. Needing to keep Matsukura behind him in A3 to become this season's first multiple winner, he concluded, 'I will fight for first in the third one'.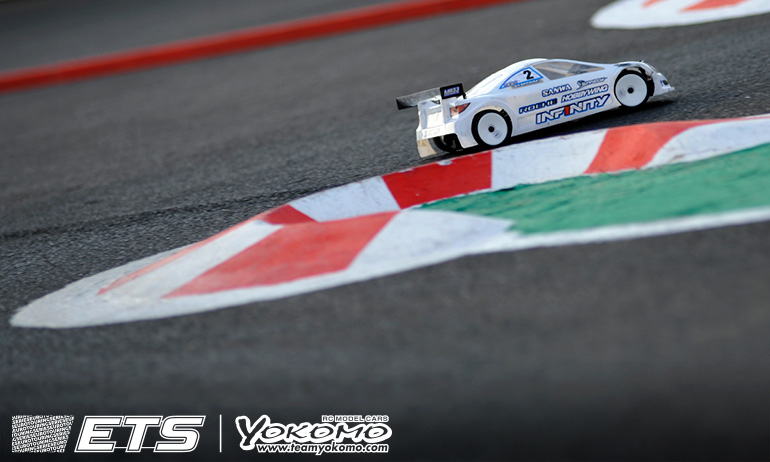 Matsukura said, 'In the beginning my car was more fast but after 2-minute we ran the same times. There was a little mistake from me and then a little mistake from him'.  He continued, 'I was back on him for the last two laps and tried to get him on the inside of the chicane but I was too much inside and had a roll'.  Chasing his first ever ETS victory, he concluded, 'normally with no mistake I can't pass. I need to put more pressure on him in the last one.  I will keep the car the same, it was good'.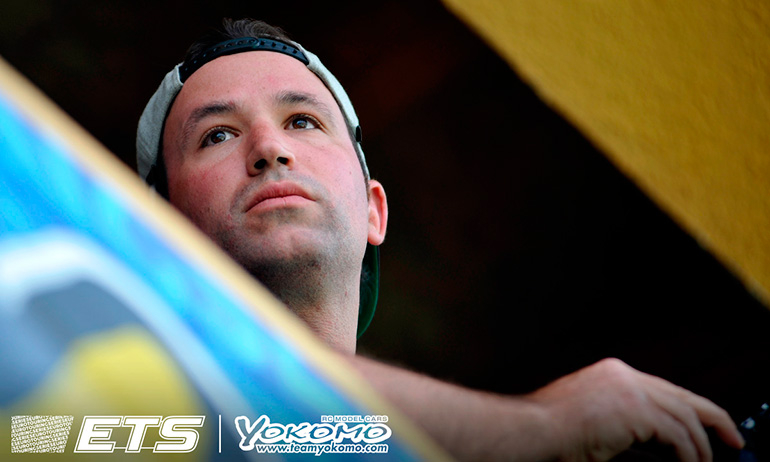 Having a rather lonely race, Rheinard said, 'I was just slightly slower than them but I was already about 1.2 (seconds) behind after two laps before getting by Viktor'.  With the chance of his second win of the season gone, the Infinity driver said, 'I will try to save my podium in the last one.  I'll try to make sure nothing happens'.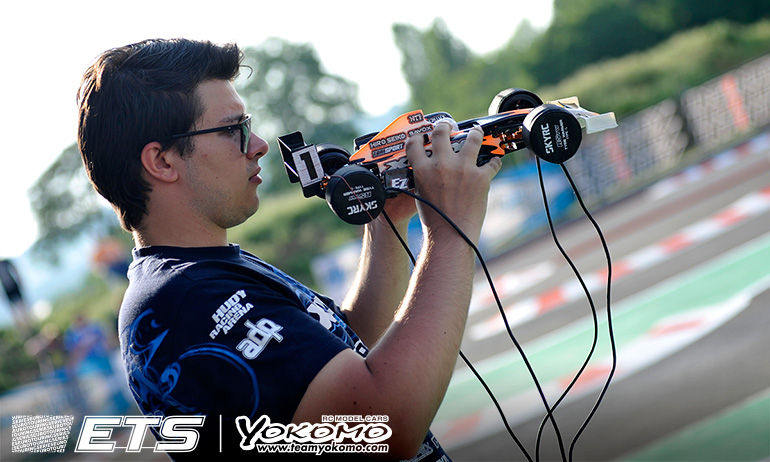 In the other A-Mains, Jan Ratheisky made up for his incident A1 of Pro Stock to see off a strong challenge from Xray team-mate and A1 winner Mustafa Alp with Alex Kunkler coming through for third.  In Formula, Ratheisky claimed the first overall victory of the weekend with yet another dominant drive ahead of Luke Lee and Helge Johannessen.  In the 40+ Masters class, Benzi took the win ahead of A1 victor Christian Drießle, meaning its all to play for in A3.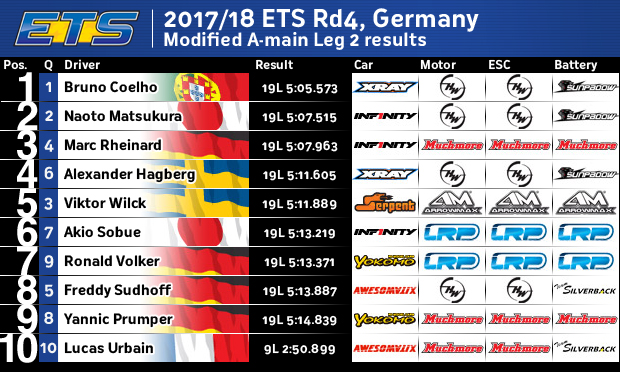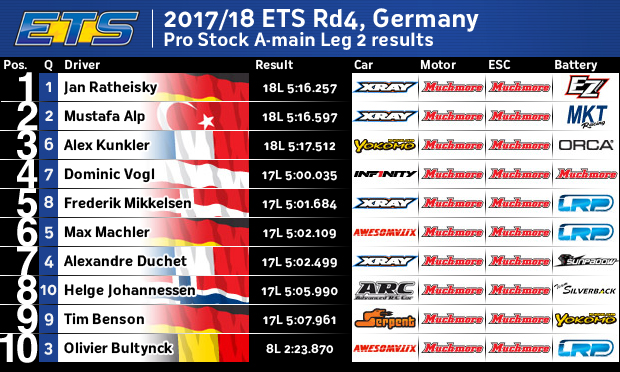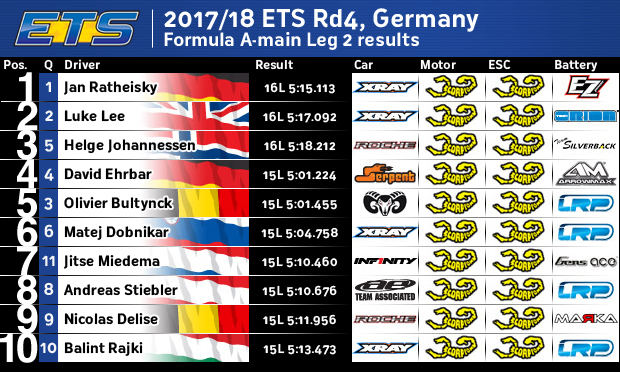 View complete event results here.
View the event image gallery here.
---