June 24, 2018
Bruno Coelho has retained his Yokomo Euro Touring Series title claiming the championship for the third year in succession with victory on his debut at the Apeldoorn track in the Netherlands.  Top Qualifier for the fourth time this season, the Xray driver added the third win of his campaign in A3 after the early demise of his main challenger all weekend Ronald Volker.  With both having a win each from the opening two A-Mains, Volker pushed hard but it was to be too much and he rolled his Yokomo over the curbing coming onto the main straight on the first run through.  This left team-mate & third place starter Christopher Krapp to take up the challenge but despite a good effort of getting the Portuguese driver in touch the German couldn't mount an attack.  With Volker setting a new track record as he finished out A3 finishing it in 9th, his early results would still give him second with Krapp joining him on the podium.  Volker's best result this season, it was a good weekend for the Yokomo team with Yannic Prumper finishing fourth but once again it was Coelho who was the benchmark.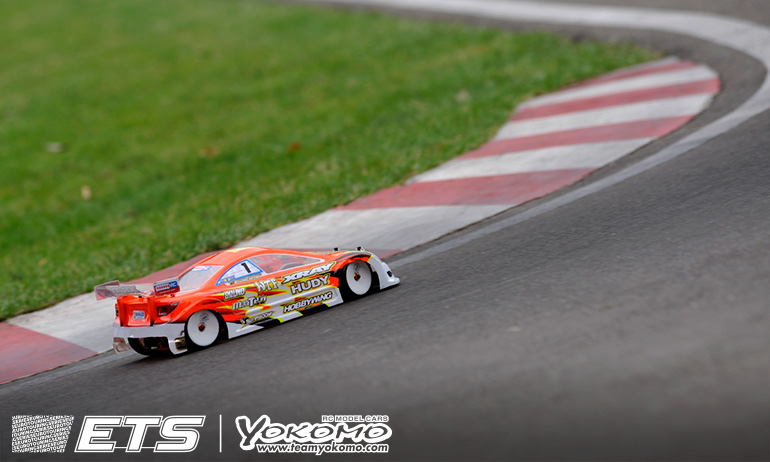 'The championship is secured. What more can I ask for. I had flips in qualifying and a body tuck in the final but in the end worked out well so I am very happy', was Coehlo's reaction to achieving the title hat trick.  On A3 he said, 'It started very well and Volker started very strong but made a mistake. I think I had a not good batch of tyres because I was not able to pull away like before from Krapp but I was able to manage and take the win'.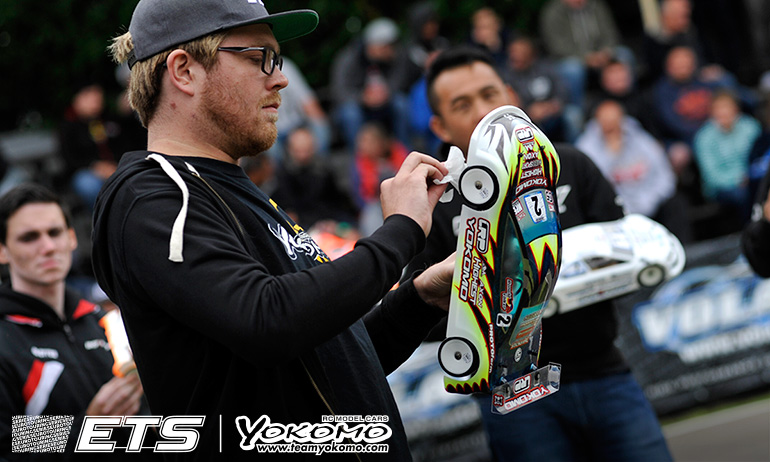 Volker said, 'I push hard and it was too hard obviously.  It was basically over for me after that'.  The World Champion continued, 'Sure I was hoping something would happen but I can't be too unhappy with my own performance and also that of my team-mates.  I felt confident going into A3 so who knows what would have happened if I had kept it on track. I would like to have seen what I could have done'.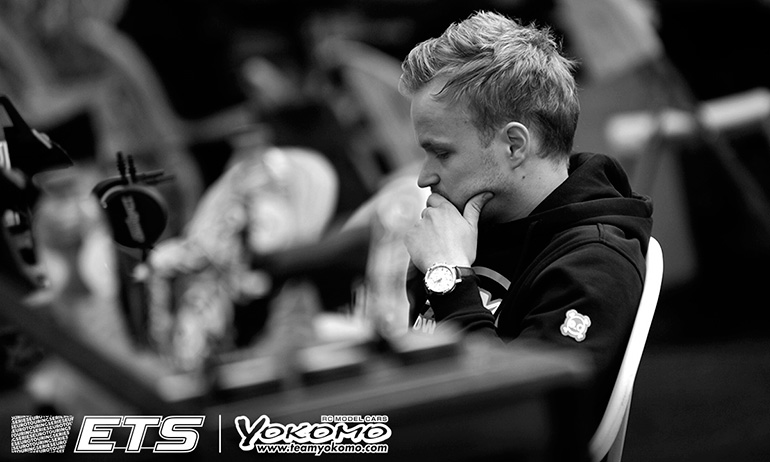 'Man I was close. the car was the best it have been all weekend', was Krapp's summary of A3.  The former ETS race winner added, 'when Ronald rolled I pushed so hard. I drove 110% but he could drive 90% and then my tyres were done in the last two laps.  Good job to Bruno for his win'.  Now in his second season with the factory Yokomo team he said, 'I'm really happy to get my second podium and with our cars finishing 2,3,4 and Nico (Lee) also in the final it shows our form is good.  I look forward to the next race'.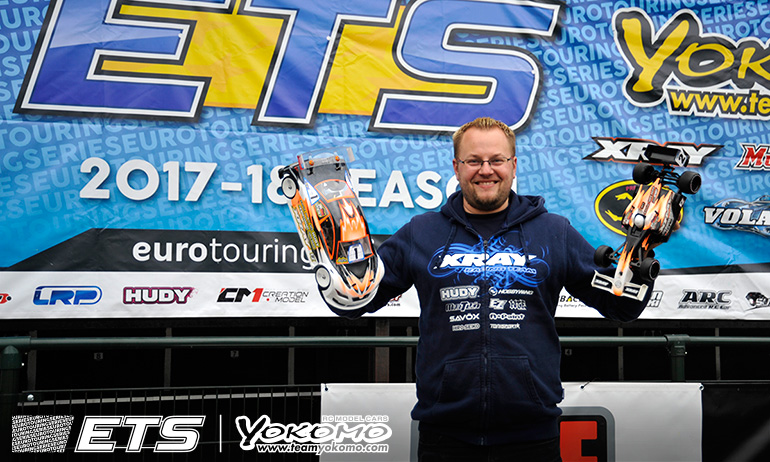 In Formula and Pro Stock both titles would also be decided at the penultimate round with Jan Ratheisky emulating his Xray team-mate Coelho by securing both championships with wins in Apeldoorn. In the Scorpion Power System Formula class, Ratheisky had a good battle with Top Qualifier Simon Lauter in A3. With Lauter hanging on for the win, it left the pair tied on points but Ratheisky's A2 was faster so he took it to claim the over title for a 5th time.  In the Xray Pro Stock class after winning A1 but going out in A2, Ratheisky put in a tone to tone win ahead of Olivier Bultynck to take back the title he lost last season. Overall Bultynck would finish Round 5 third behind A2 winner Max Mächler.  In the Infinity 40+ Masters class the result would also come down to race winning times with Infinity driver Beni Stutz winning A3 ahead of A2 winner Christian Drießle, A3 the faster race securing ETS veteran Stutz his first ever win of the championship.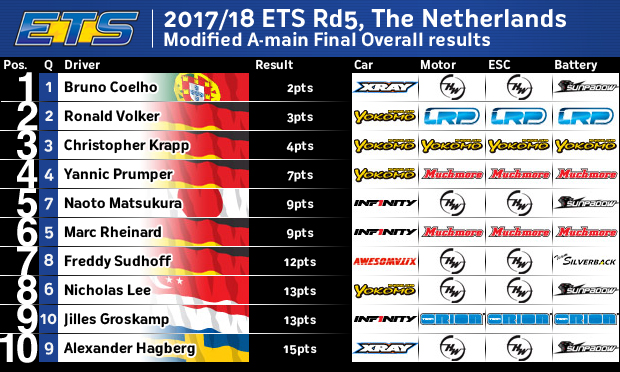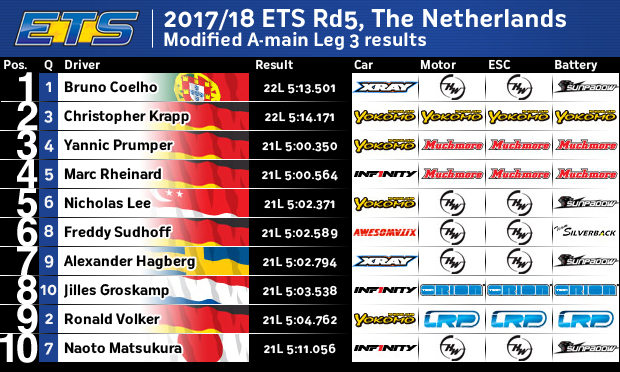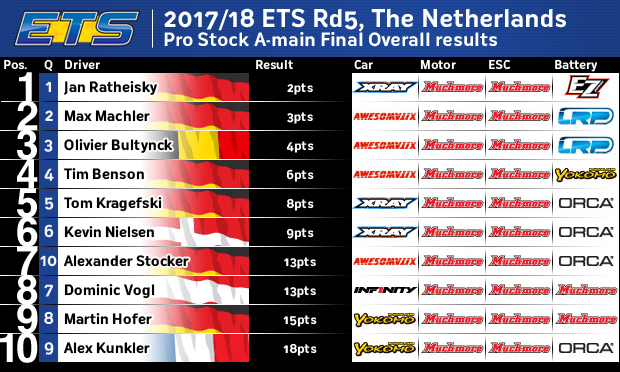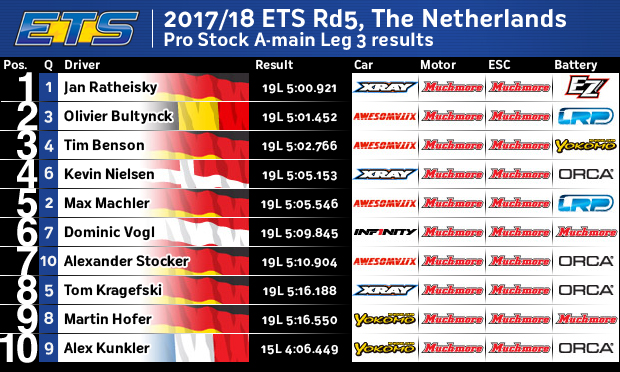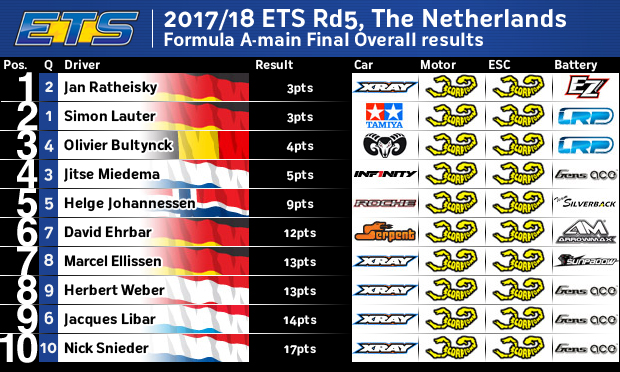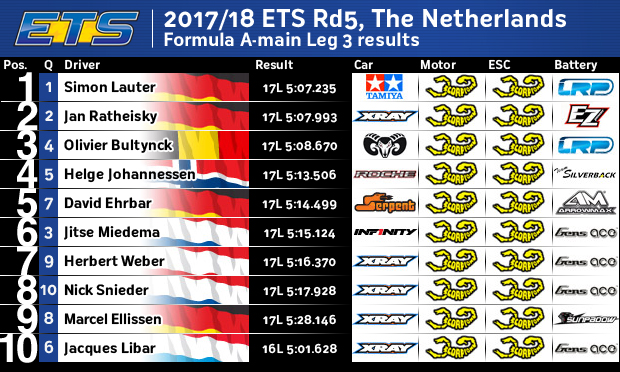 View complete event results here.
View the event image gallery here.
---