June 23, 2018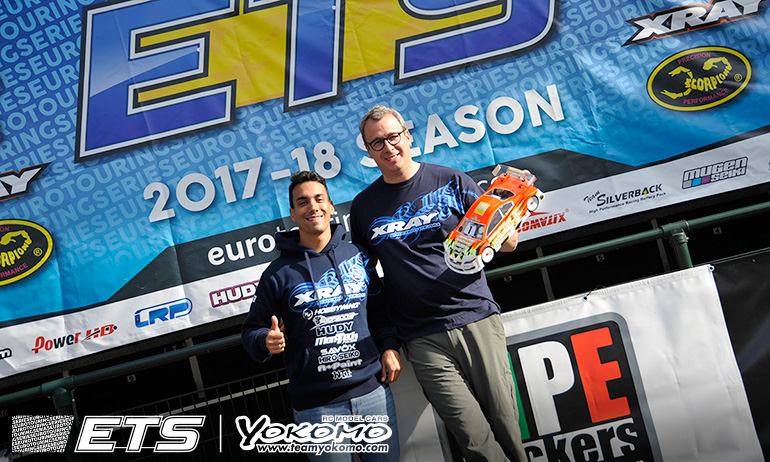 Bruno Coelho will start on pole for tomorrow's Yokomo Euro Touring Series fifth round at Apeldoorn, the Xray driver's fourth TQ of the season moving him to within touching distance of his third consecutive ETS title.  Having convincingly set the pace in controlled practice yesterday, Coelho got the day of to the perfect start by taking the opening qualifier but he couldn't keep his car on the track in Q2 & 3.  This allowed Ronald Volker to TQ the second and Christopher Krapp to top Q3 meaning it would all come down to the fourth & final qualifier.  Initially it was Volker who set the pace but Naoto Matsukura now had a quick car going to the top of the timing screens but all the time Coelho was getting into his rhythm conscious he couldn't afford another roll.  While Volker would push him hard, in the end Coelho's earlier form was back and he completed the 5-minutes well clear with Nicholas Lee coming through for a P2 run ahead of Matsukura and Volker, who will line up 2nd tomorrow.  In what has been a strong weekend for Yokomo, Christopher Krapp will start 3rd with team-mate Yannick Prumper fourth. With Coelho's TQ eliminating team-mate Alexander Hagberg from the title fight, now only Marc Rheinard remains but he must win tomorrow which is looking like a tall order from 5th on the grid.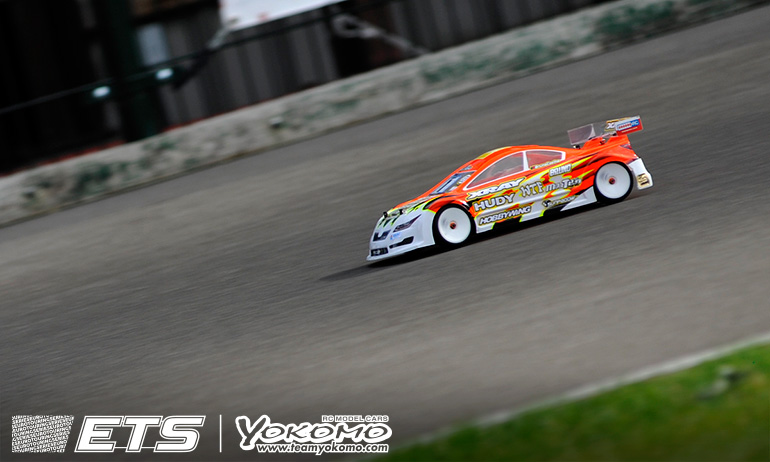 Reacting to his TQ, this weekend his first time to the famed Dutch track, Coelho said, 'I knew the car was good and if I drive it more careful I can make first.  I flipped in the second qualifier and in the third one it was not really my fault, the car traction rolled. I also had back luck when coming off the grass because I touched Lucas (Urbain). I had no chance to do anything but it was my fault and I apologised to him for that'.  Looking to tomorrow, the Portuguese ace is quietly confident he can wrap up the championship with his 13th ETS career win. He said, 'If the track is like today I will try to manage the race.  The car worked well and I like the track layout but the weather can change and there is also the wind. So we'll have to wait and see'.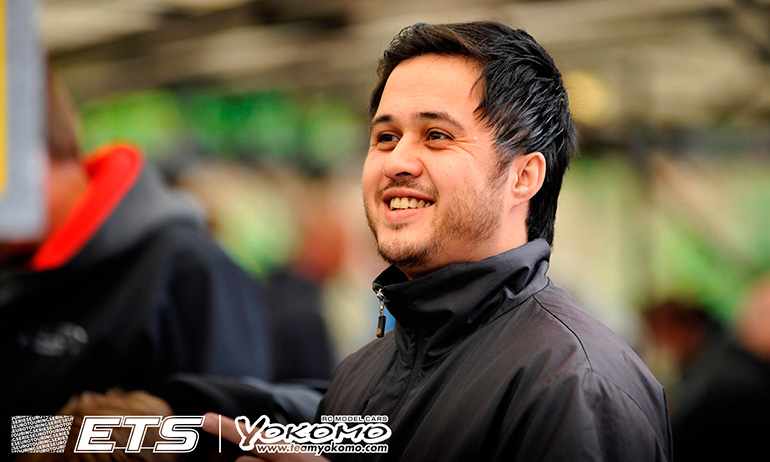 Volker said, 'The set-up didn't worked as well as expected but I think if it had the tyre strategy would have paid off.'  The World Champion added, 'We will have to make changes for A1 to try and get extra steering to have at least a chance of the win'.  Very much undertaking the role of team leader at Yokomo following changes within the team, he said, 'I am super happy for our team. Not only have we the most cars in the final with 4 drivers on the grid but we are lining up 2, 3, 4 and 6th'. Asked about the possibilities to overtake he replied, 'it is difficult to pass because it's a high speed track so you have force mistakes from each other'.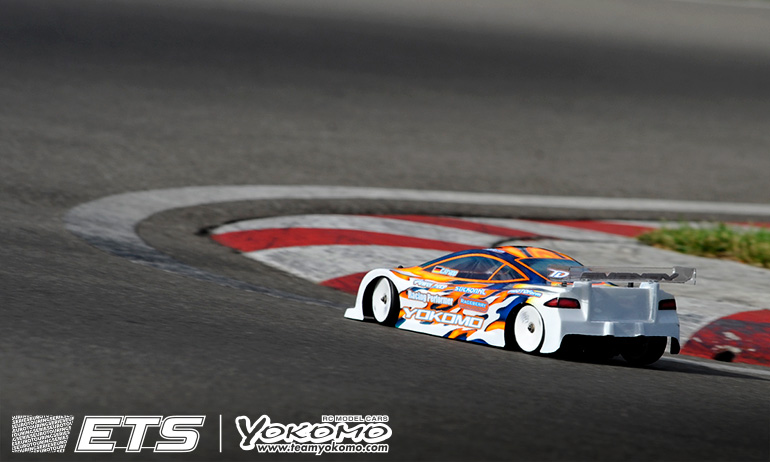 'I pretty happy that on used tyres I was only 1-second off Ronald on new tyres', was Krapp's reaction after Q4, the former race winner secured his 3rd place on the grid with a P4 in Q2 and TQ in Q3.  He added, 'I am pretty happy with third on the grid and I hope I can make the podium'.  Managing to finish second at ETS Spain from fourth on the grid, he echoed his team-mate Volker's thoughts on his team performance this weekend saying, 'I am super happy how the team has done because it shows all our team work pays off'.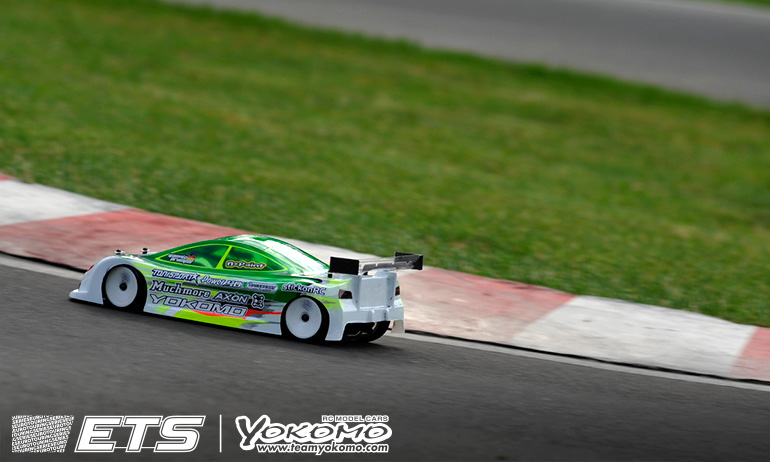 While he struggled with 'zero traction' in Q4 something he said could be down to him not adjusting his set-up for used tyres, Prumper along with all A-Main drivers having 3 new sets of tyres ruling out any tyre tactics he said, 'I think we all have a good chance tomorrow'.  Equalling his best qualifying of the season and a huge improvement on his starting position at the previous two asphalt encounters, he added, 'the track is not good for overtaking but hopefully everyone can move up one position', a scenario that would make it an all Yokomo podium.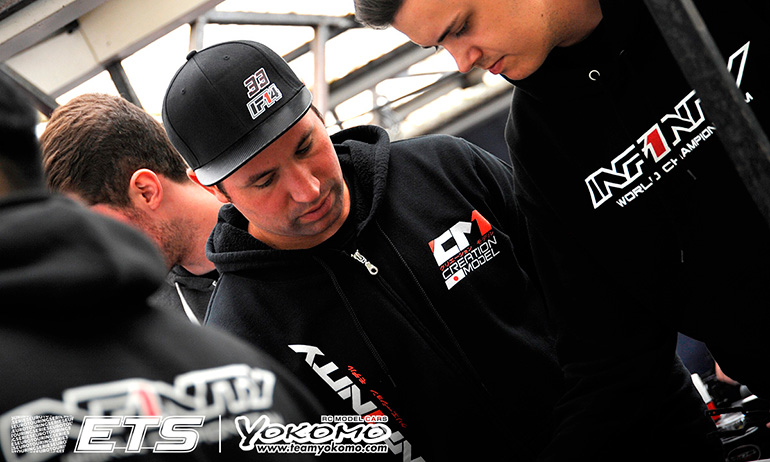 'For old tyres it was not bad' was a much happier looking Rheinard's thoughts on Q4, the Infinity driver able to improve his 7th from Q2 with a P5.  A three time ETS winner at Apeldoorn, he continued, 'luckily we went the right direction with set-up and the car is now quite good.  I would like to be starting higher but getting ahead of Yannic would have the best I could do, anyway I am happy to have a car that works again'.  On his chances to mix it at the front in the finals, he said, 'It is hard from 5th but Bruno is making many mistakes this weekend so we will see'.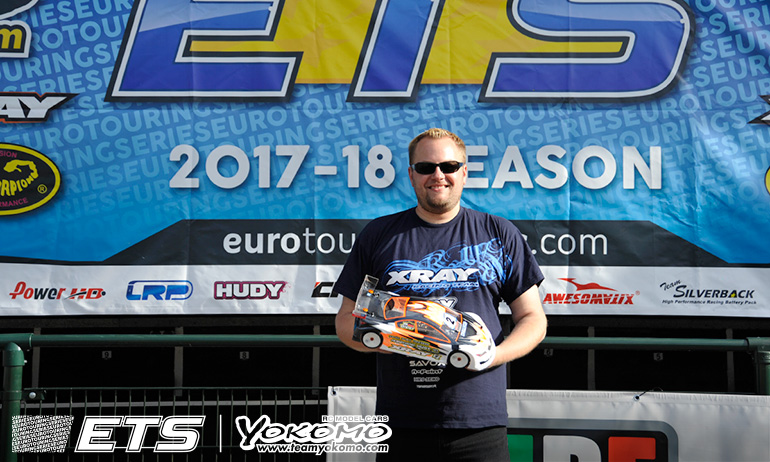 In Pro Stock it will be Jan Ratheisky who starts on pole while in Formula Simon Lauter is the Top Qualifier after producing his third TQ run of the day in the final qualifier.  Behind Ratheisky it will be Max Mächler who carries the No.2 with fellow Awesomatix driver Olivier Bultynck and Tim Benson lining up behind.  For Tamiya driver Lauter, he is going to have Ratheisky behind him with Jitse Miedema third and Bultynck fourth.  Long time ETS competitors Beni Stutz can finally call himself an ETS Top Qualifier after the Swiss Infinity driver secured pole for the 40+ Masters class. Christian Drießle will start second while championship leader Thomas Oehler will have to try and work his way through from 7th.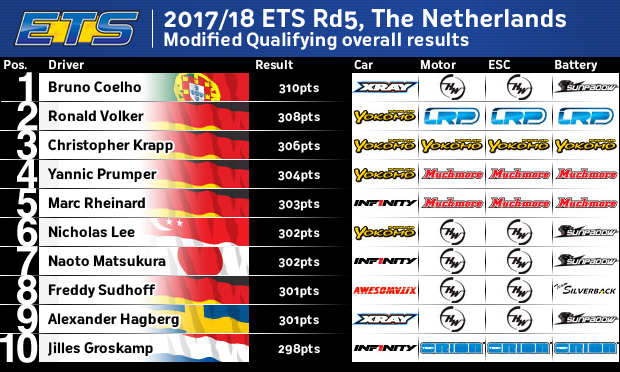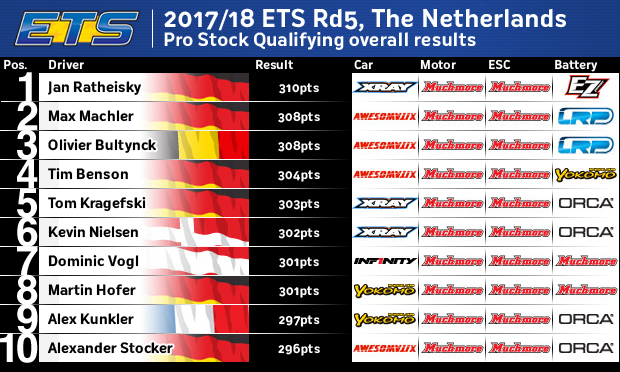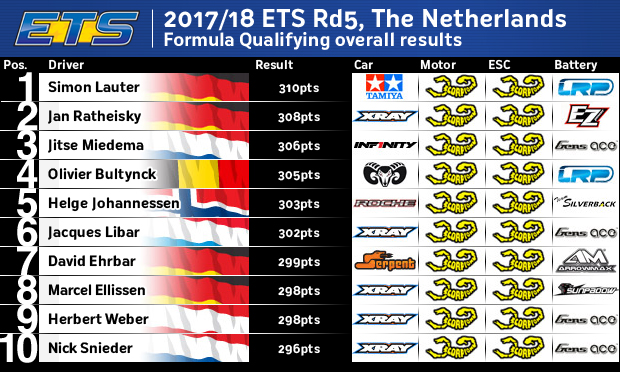 View complete event results here.
View the event image gallery here.
---