July 14, 2018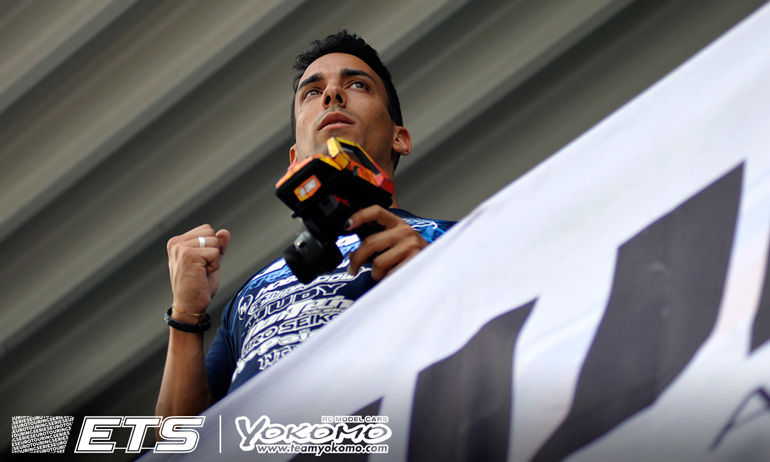 Bruno Coelho continued his reign at the season finale of the Yokomo Euro Touring Series in Slovakia, the Xray driver winning A1 ahead of team-mate Alexander Hagberg.  While a widely predicated result, Coelho didn't have things entirely his own way with Hagberg for a time looking like he might be able to mount a challenge. Overshooting the carousel a number of times, Coelho was clearly struggling with his car but the Top Qualifier was able to hold on, crossing the line 3/10th in front of Hagberg.  Behind them, Michal Orlowski would complete the Top 3 finishing as he started with a 2-second advantage over Viktor Wilck.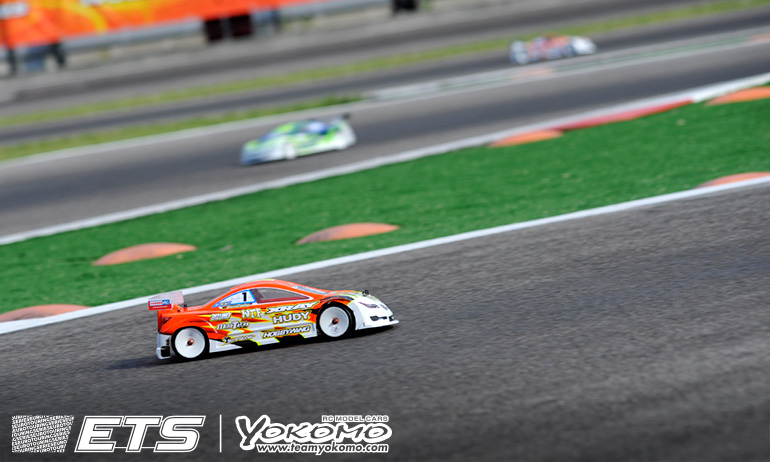 Reacting to his win, Coelho said, 'It was OK but the last qualifier I had a crash and maybe something is broken in the car from that. The first 5-laps it was impossible to drive'.  He continued, 'it was super difficult and was loose in the rear off power so for sure we will look for the problem'.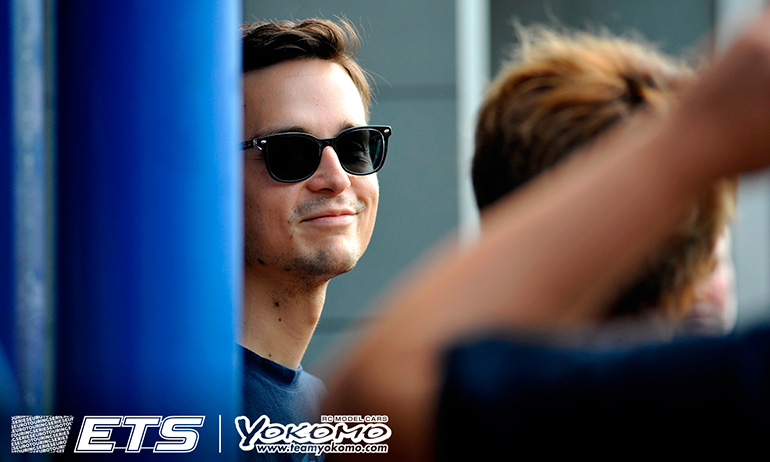 On his race Hagberg said, 'At the start there was no grip but I was able to keep up with him (Coelho) and closed in the end but not enough to mount an attack'.  One of three of this season's race winners, taking victory in Madrid, he said we need to work on getting the car better for the first minute of the race and if we can do that hopefully I can mount a bigger challenge tomorrow'.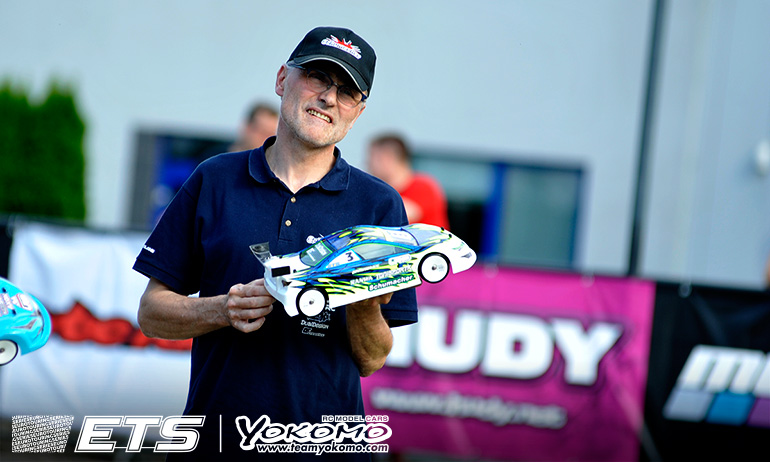 Orlowski said, 'It started off pretty good and I was right with Alex. I had a small chance to pass but couldn't get it done'.  The Schumacher driver added, 'my tyres warm up more than theirs (Xray) which allowed them to pull away.  After that I settled for 3rd.  I'm glad I kept my position.  The car is very good so I will run it the same again tomorrow.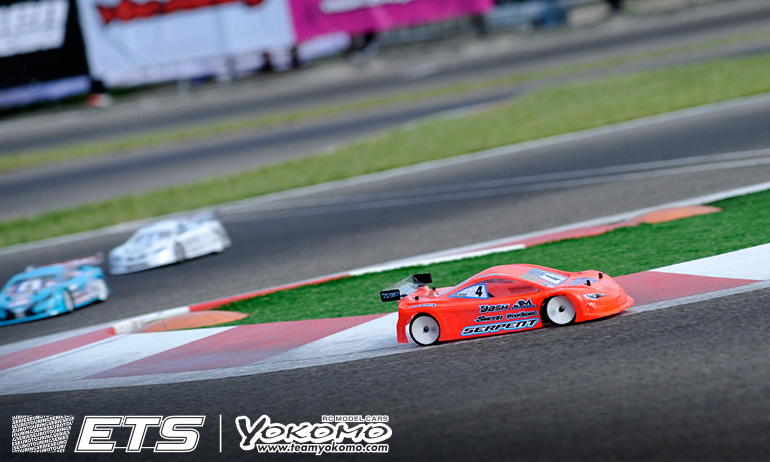 Commenting on his A1 performance, Wilck said, 'the beginning was good and I felt I was pressuring Orlowski but after 2-minutes it felt like I overheated the tyres.  I then had a moment on the curbing and had a slide.  We have to change the set-up for tomorrow'.  Behind Wilck, Ronald Volker would move up one position, at the expense of Yokomo team-mate Christopher Krapp, to finish 5th just ahead of Infinity's Akio Sobue.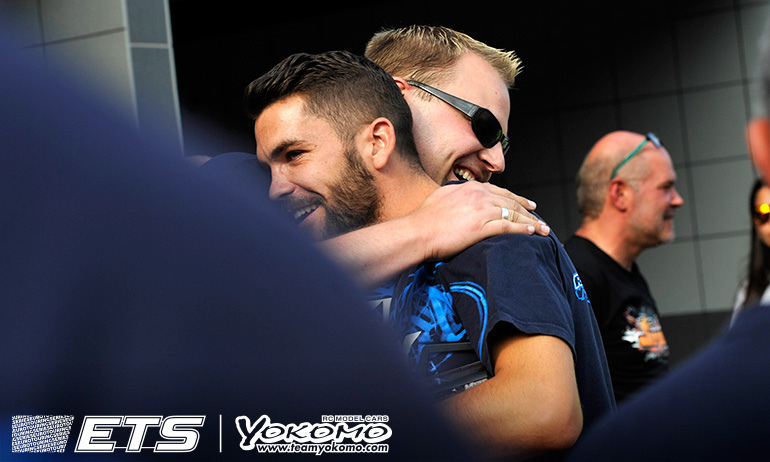 The first encounter of the Pro Stock A-Main would also see Top Qualifier Alexandre Duchet lead from tone to tone all but for a split second.  Xray team-mate Jan Rathiesky looked to have sneaked through on the second last corner but Duchet retook him in entering the final corner to win by 3/10ths. Olivier Bultynck was in the lead bunch but got caught at the line and had to settle for third.  in Formula, contact between Bultynck and Rathiesky would allow Simon Lauter and Matej Dobnikar battle it out for the win with Lauter just hanging on for the win from fourth in the grid.  In 40+, Top Qualifier Thomas Oehler suffered an early error to come back to the front to take the win and move closer to becoming the classes inaugural champion.  Behind Roberto Fabiano saw off Christian Drießle for second.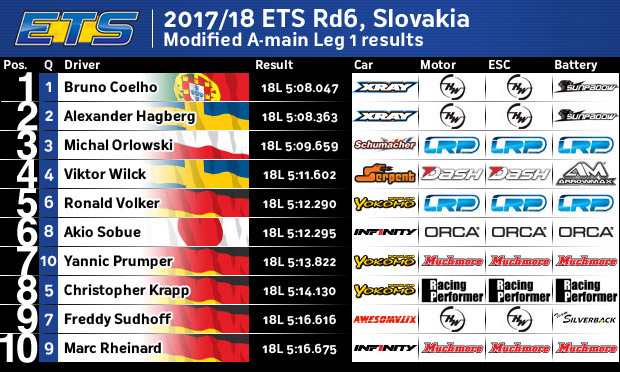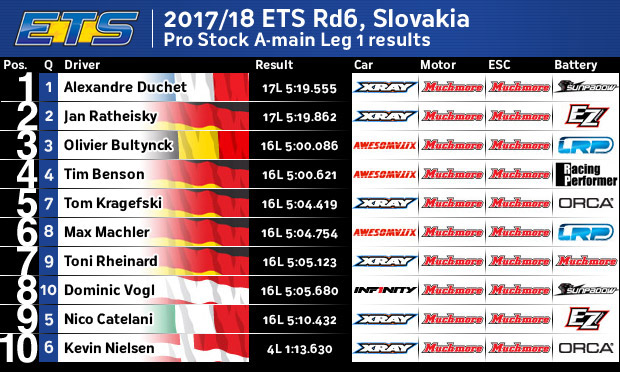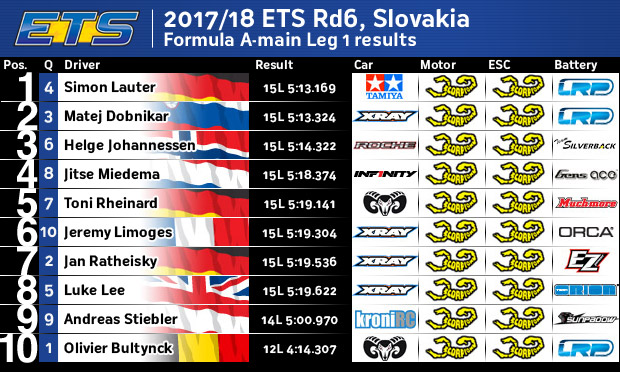 View complete event results here.
View the event image gallery here.
---