February 9, 2019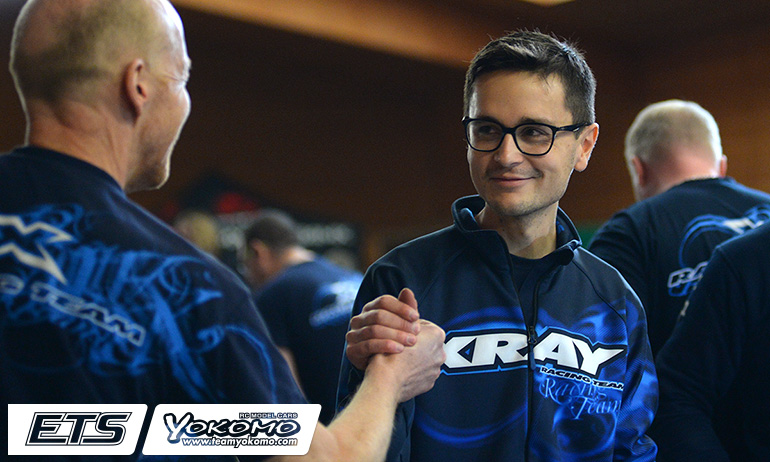 Following a close opening qualifier last night at ETS Daun, Q2 threw up another super close battle for the TQ with Alexander Hagberg coming out on top by just 0.039 of a second ahead of Freddy Sudhoff.  Having conceded Q1 to Bruno Coelho, Sudhoff was again the main challenger to the Xray team but just the slightest of errors on the penultimate lap cost the on-form Awesomatix driver 2/10th and although he finished with his fastest lap of the qualifier such is the pace at the front he would again end up second.  Getting his car up on 2-wheels with three laps to go Coelho would complete the Top 3 with almost a 2 second advantage over the rest of the field.  Best of the rest would go to Yannic Prumper who was 4th fastest ahead of Christopher Krapp and Thimo Weissbauer.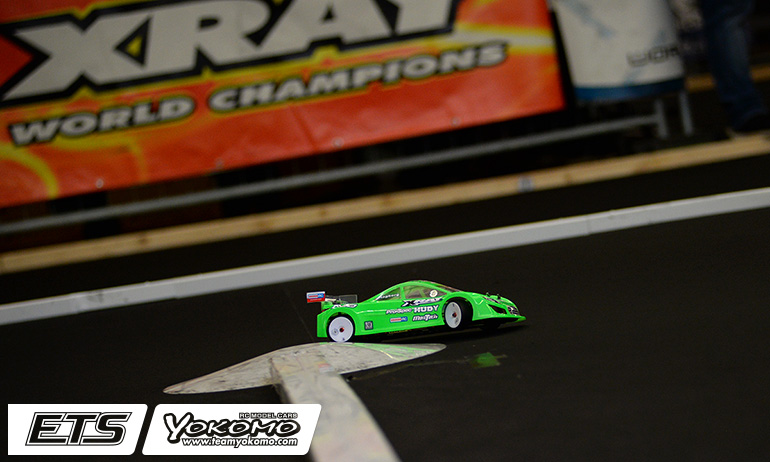 After a slow start to Q1 due to his tyres taking time to come-in leaving him to recover for a P5 for the round, Hagberg had no such problems today saying, 'the car was better today.  From lap 1 I had traction'.  The Swede continued, 'I reverted back to my set-up from practice and that gave me more front traction which meant more steering'.  Looking to the third of the four qualifiers, the former ETS race winner said, 'I will try to repeat my performance and do a clean run.  I will probably stick with the same set of tyres'.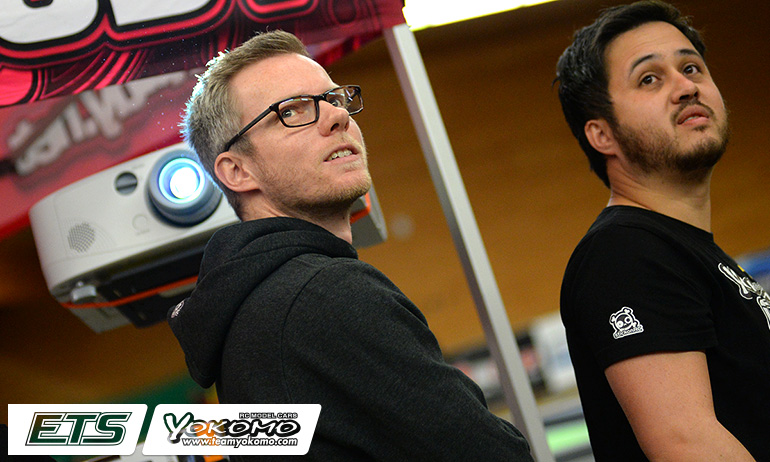 'Same story just a different driver beat me', was Sudhoff's reaction.  The German continued, 'the car was on point but maybe had a little understeer compared to yesterday.  I had a bad lap and lost 2/10th but this caused me to be only second.  Maybe it will be third time lucky'.  Asked if he planned to change his set-up for Q3, he replied, 'I need to discuss with Max (Machler).  He said the car has less steering to yesterday so we need to think what we could change to improve this'.
Coelho said, 'It was very difficult at the beginning because the car was loose in the rear.  In the middle (of the qualifier) it was OK and I could fight with Alex and Sudhoff but then I hit a dot on the rear and the car went on to two wheels'.  He added, 'I lost 3/10ths but on this level it was like losing 3-seconds'.  Asked if he knew why his car was loose at the start, the reigning ETS Champion replied, 'we changed something to get more steering and maybe it was because of that.  We need to check'.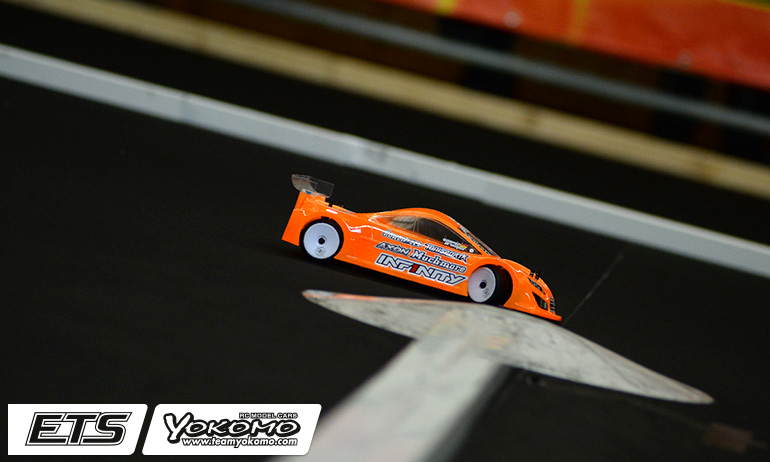 'A little better but we are still quite far off', was how Prumper summed up Q2.  The Infinity driver added, 'In Q1 the gap was 4-seconds now it is 2-seconds but the problem is the car is still missing rotation in the 180 corners.  We will now discuss what we can try for the next one.  The change I made between Q1 & 2 was an improvement so I might go more in the same direction with this'.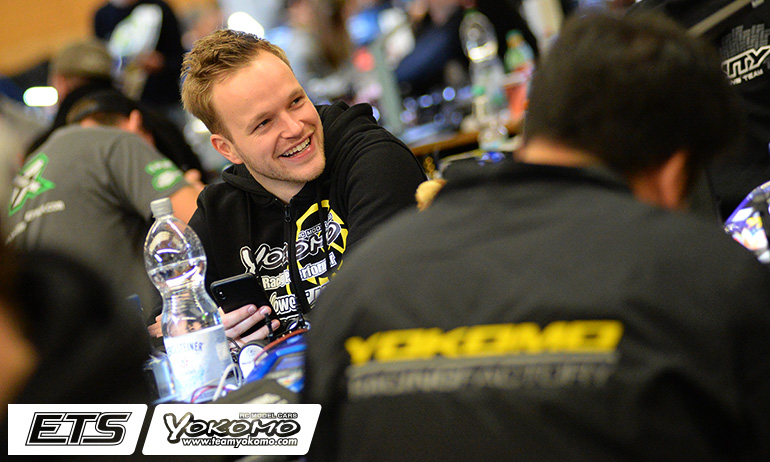 Heading the Yokomo challenge in Q2, Krapp said, 'the position was good but if you see the gap to the front it's too slow'.  The German continued, 'Myself and Ronald (Volker) need to try something.  The gap is just too much'.  On his own BD8's performance he said, 'Personally my problem is that after 4-minutes it gets loose in the rear so I could push.  I need to get it good over the full 5-minutes'.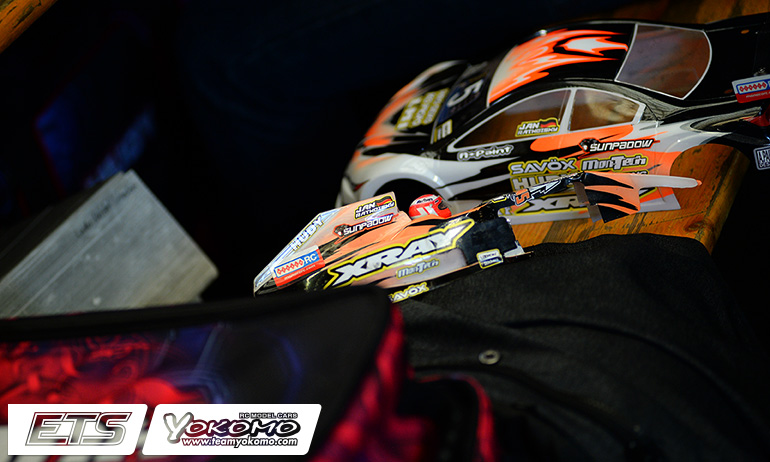 In the Scorpion Power System Formula class, reigning champion Jan Ratheisky pulled of a TQ run having been beaten by Serpent's David Ehrbar in Q1.  The Xray driver completed the 5-minute qualifier a massive 4-seconds up on Herbert Weber, the former champion running in the second fastest heat group.  After his Q1 TQ, Ehrbar would get a P3 ahead of Andreas Stiebler.  In the Xray Pro Stock second qualifier, France's Léo Arnold was fastest ahead of ETS Vienna winner Simon Lauter with champion Ratheisky, who took Q1, completing the Top 3.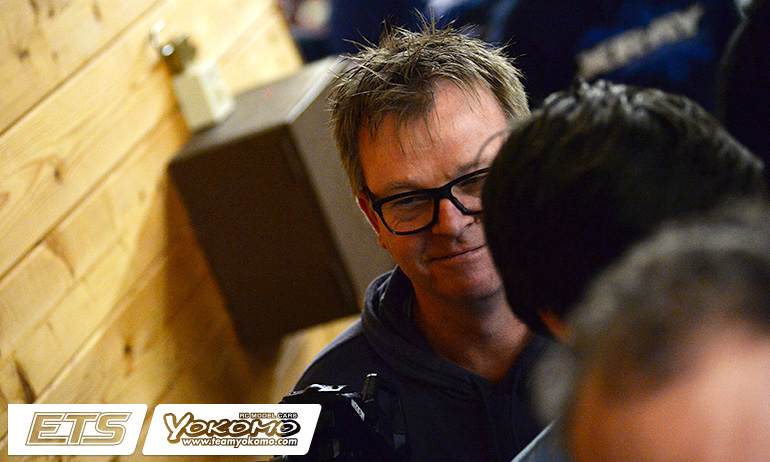 The new 17.5 Stock class Torsten Baggendorf, bettered his opening round by one spot to register a TQ run. With Q1 pace setter Luis Moreno having a difficult run, the second fastest time would be set by Alojzij Osvald ahead of Alexander Müller. In the Infinity 40+ Masters class Alexander Stocker continued his reign over proceedings with a second TQ run this time ahead of Andreas Weyhoven and Toni Mateo with defending champion Thomas Oehler fourth.
View complete event results here.
View our event image gallery here.
---