February 8, 2019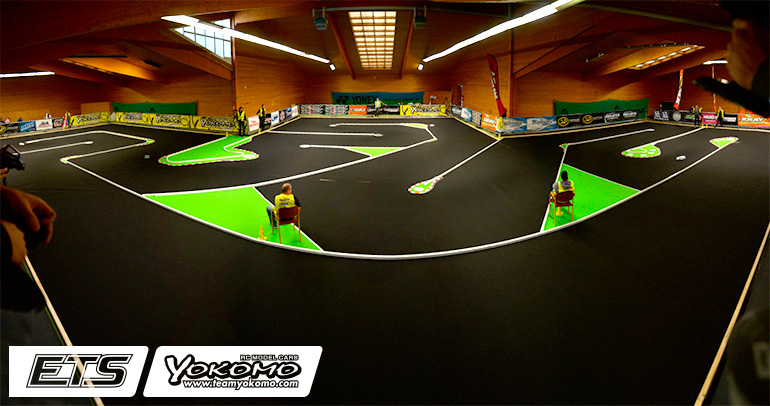 Venue – Sporthotel & Resort Grafenwald
Race Hosts – ETS
Country – Germany
Location – Daun (180km West of Frankfurt)
Direction – Anti-Clockwise
Surface – Carpet
No. of ETS Races hosted – 1
For the second weekend running the small German town of Daun is under an RC Racing invasion. Last weekend the Sporthotel & Resort Grafenwalds was host to a record entry Euro Offroad Series encounter and now this weekend it is the turn of the world's best touring car drivers to battle it out at Round 2 of the ETS.  After a lengthy break of almost four months since the opening race of Season #12 in Vienna, the championship returns to Daun for a second time after the venue successfully debuted on last season's calendar.  Attracting over 320 entries this weekend, drivers get to race on the largest indoor carpet track of the season thanks to the unique shape of the tennis hall in which it is built.  Covering an area of 830 square metres, the track which has switched sides in terms of its location in the symmetrical building making it now anti-clockwise in direction, is the work of racers Tobias Baumback and Marvin Gutting who started the build on Tuesday, the EOS track having been cleared away Sunday night.  45m wide and 30m deep in the centre section, a quick modified lap is taking 15-seconds which is a second quicker than last year.
A winner here at the EOS last weekend, taking the 4WD victory, reigning ETS Champion Bruno Coelho described the layout as 'different'.  Winner of the event 12-months ago he added, 'I can't say I don't like the track but the flow is only OK.  It has many 180 corners.  You can't really call it technical. You race it point to point where are normal layout you are combining everything together'.  He concluded, 'It's something different and we need to work on the car for this'.
Taking the top prize at the season opener back in October, Ronald Volker's initial thoughts on the track layout were, 'It's different to last year's layout. Now it has a lot of hairpins and we are running the opposite direction'.  He added, 'It lacks a bit of flow. It's more point and shoot. Unfortunately we have only 3 rounds of practice which makes it tough to be on point for the first qualifier'.
Image Gallery
---