June 30, 2019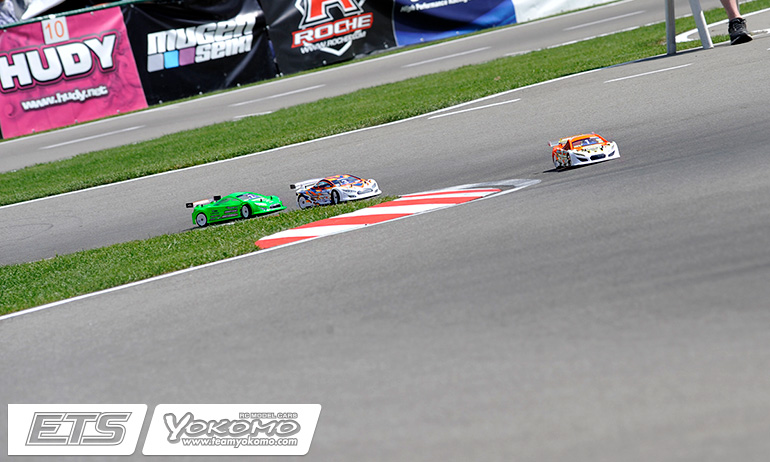 Bruno Coelho has won ETS Netherlands for the second year in succession, the Xray driver taking maximum points at the Apeldoorn track to move a step closer to retaining his Modified title for the fourth season straight.  Securing the TQ, he claimed his third victory of the season with a win over Christopher Krapp in A2, the Yokomo driver looking for a time like he might force things to go to A3 after getting by Freddy Sudhoff in the opening laps.  At the end however Coelho, as in A1 last night, was able to maintain a save advantage at the front crossing the line 7/10th in front of Krapp with Sudhoff a further 1-second back, the Top 3 having quickly broke away from of the rest of the 11 car field with Yannic Prümper finishing a distant 4th.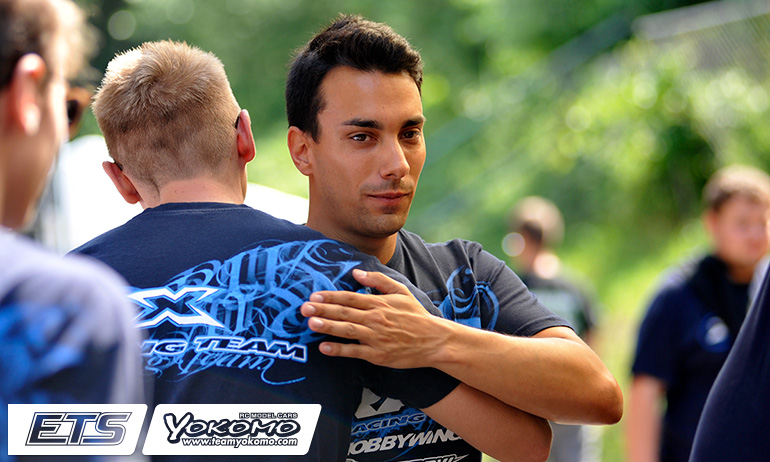 Commenting on his second A-Main encounter Coelho said, 'At the beginning I was a little afraid to make mistakes so I stayed away from the curbs.  Then Freddy had some kind of mistake which allowed Christopher to close on me but like yesterday I expected a drop off in the middle (of the race) and that's what happened'.  Moving into the Championship lead with today's win, he continued, 'the points are what we came for and for sure this is good for the title.  I know have 3TQ and 3 Wins  and something like a 6th & 8th so its still open'.  While having the advantage of the season finale being at his 'home' track, the Hudy Arena, the World Champion said while he was 'happy with result today' he is 'still not totally happy with the car'.  He explained, 'we are still missing something to the Awesomatix guys.  We need to make our car faster.  We thought after the last ETS in Austria and the Euros that we were on a good way but here we see we are not so we still need to work a lot'.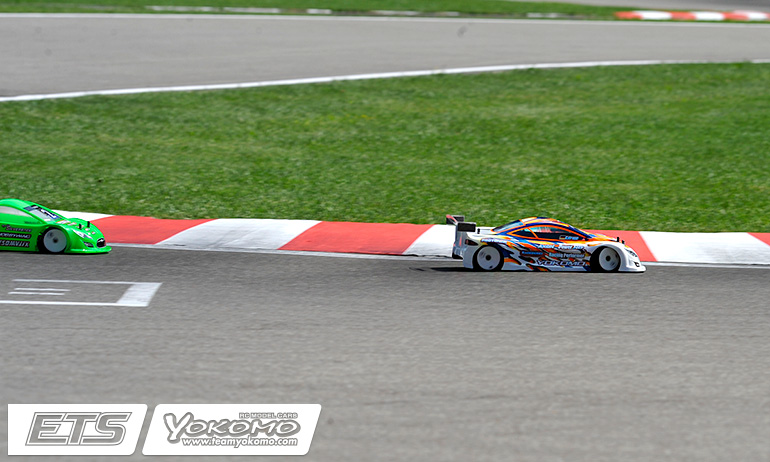 Reacting to his A2 challenge, Krapp said, 'I hope I made it interesting for a while at least.  To be honest my car was really game on that time.  Freddy was struggling so I go on his inside and passed him.  Then I was on Bruno and tried everything but just didn't have enough. Congrats to him on the win'.  Asked were he was lacking compared to Coelho, the German explained, 'he was having trouble at the end of the straight, his car was loose there but he was better then me on the right side which meant I couldn't get close enough to make a move at the end of the straight'. Going into A3 with a chance of second, the German, who is still seeking his first podium of the season,  said, ' I will try to fight for second (overall) but Freddy had some problems that one so I'm sure he will be quick again in the next one.  I will race it out with him and make sure I don't do any stupid stuff'.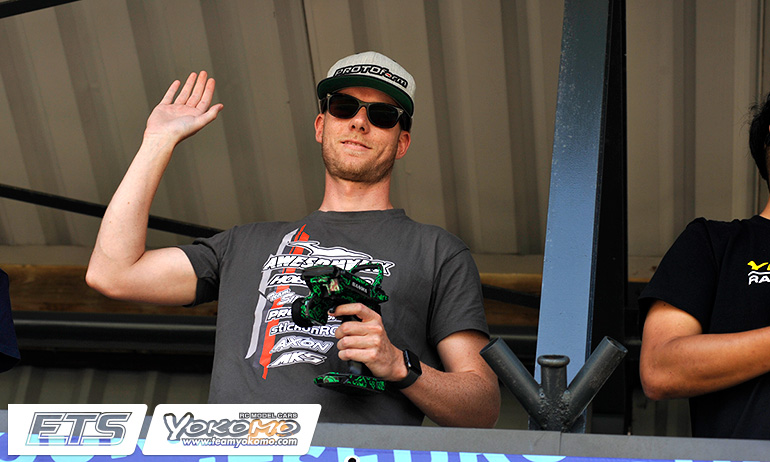 'Mission failed', was Sudhoff's reaction after A2.  One only three drivers to win this season after taking his first ETS career win in Madrid, the German continued, 'the first few laps I was struggling for overall traction.  I took my tyre warmers off too early and then we had the driver presentation so they were too cold.  It was my own fault'. He added, 'that's how Krappy could pass me like he did out of the corner.  For the last one I need to work on tyre prep and then see what happens'.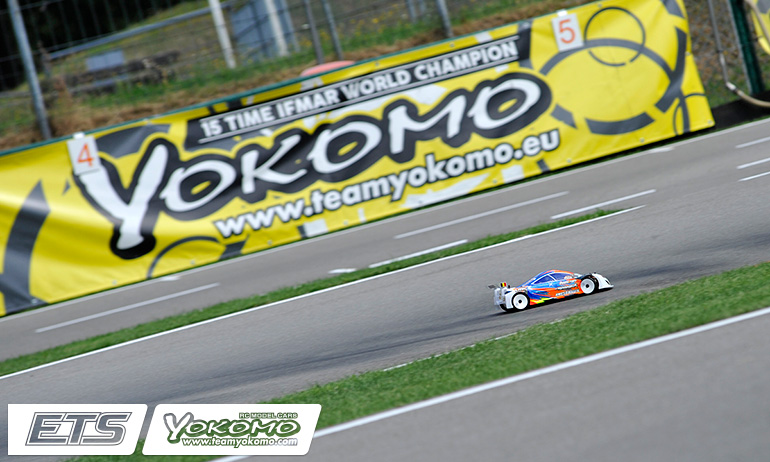 In the other classes A2 also saw the Xray Pro Stock decided.  Having taken A1 from the TQ, new EFRA European Champion Olivier Bultynck again took charge of proceedings to secure his first overall win of the season with his Awesomatix.  In Scorpion Power Formula class former champion David Ehrbar took the win ahead of reigning Champion Jan Ratheisky after Top Qualifier Simon Lauter and Jitse Miedema came together in the middle of the race.  The Infinity 40+ Masters class was won by Andreas Weyhoven despite the German getting a stop go penalty for contact at the start with Top Qualifier and A1 winner Toni Mateo.  In the 17.5 Stock class there were tears of joy for Marwin Riedelbauch as he backed up his A1 win with another in A2 to take his biggest ever race win.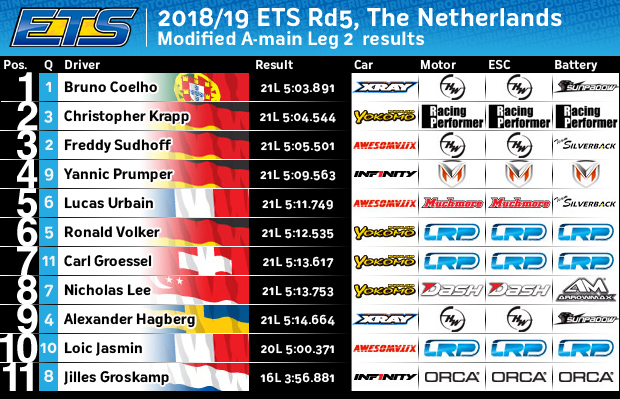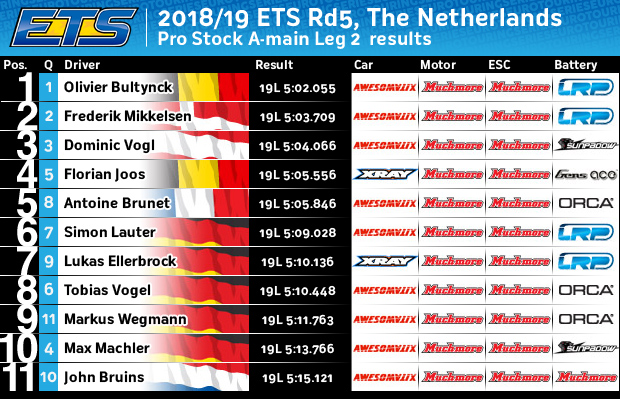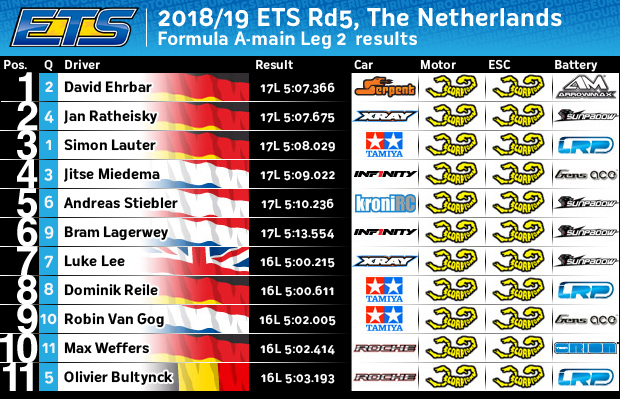 View complete event results here.
View our event image gallery here.
---