July 28, 2019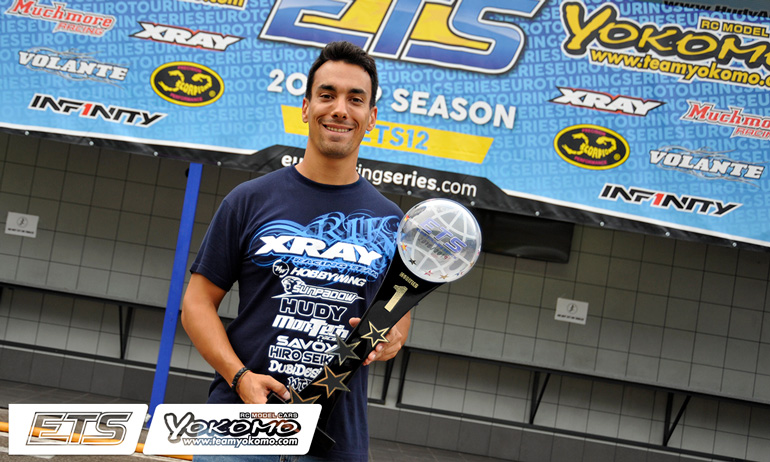 Having clinched the overall title by securing the TQ in qualifying on Friday, today Bruno Coelho has wrapped up Season #12 of the Euro Touring Series with the third consecutive win of his successful campaign.  Taking A1 with ease, the Xray driver would just hold on to take A2 ahead of Ronald Volker, his main title rival reducing the gap over the closing laps to 3/10ths of a second.  Again a mistake from the no.2 starting Alexander Hagberg allowed Volker through to second place and now the duo will fight it out in A3 to decide who finishes runner-up at the Hudy Arena.
Commenting on A2, Coelho said, 'I had a very good start and had about 1-second over Alex.  Then I think I overheated the tyres and lost all the gap I had built up.  I lost traction.  I had no steering and no forward traction.  One more lap and it would have been difficult to keep Volker behind me'.  Reflecting on the 2018/2019 ETS Season, the now four time Champion who was only 6th at the season opener in Vienna said, 'It was not a god start to the Season.  In Madrid (the first asphalt race of the season) we had a bad result but it was to be a good point because we started to develop a completely new platform and we have quickly shown the potential of our 2020 kit.  Our old platform has been around for 6-years and we had a lot of knowledge with this car.  This is a brand new car so still have more to learn about it so I am sure it has a lot more potential'.  He concluded, 'It was a tough Championship but we turned a negative into a position and I am super happy for that'.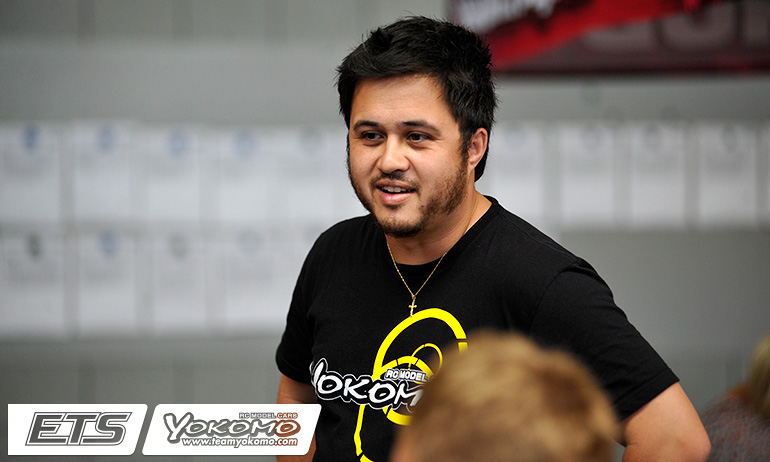 'I tried everything I could and there wasn't much missing at the end.  I still struggled in the opening laps for traction', was Volker's reaction to A2.  The Yokomo driver continued, 'This time I was able to show the best pace at the end but there was not much room anyway to make a pass.  Congrats to Bruno for another win'.  With second places from the opening two mains, the former World Champion said, 'for the last one I will try save my 2nd place.  I wouldn't be happy if I was to drop to third on the podium so I will try to get ahead of Alex'.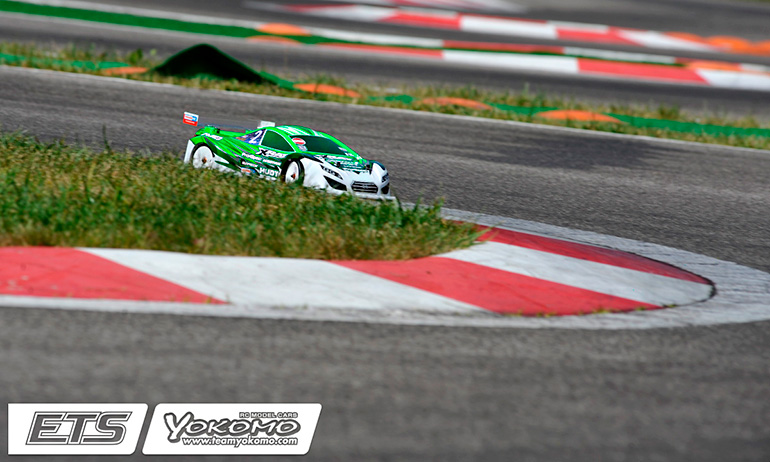 Putting his A1 mistakes down to him 'not driving well today, that's all', Hagberg said, 'the car is very good at the start and I was pulling away from Ronald until I had a mistake at the sweeper.  I couldn't recover from that'.  Looking to A3, the Swede said, 'I hope I can win the next one and finish 2nd overall'.  Behind Hagberg, Christopher Krapp would finish 4th followed by of fellow French Awesomatix duo Lucas Urbain and Loic Jasmin.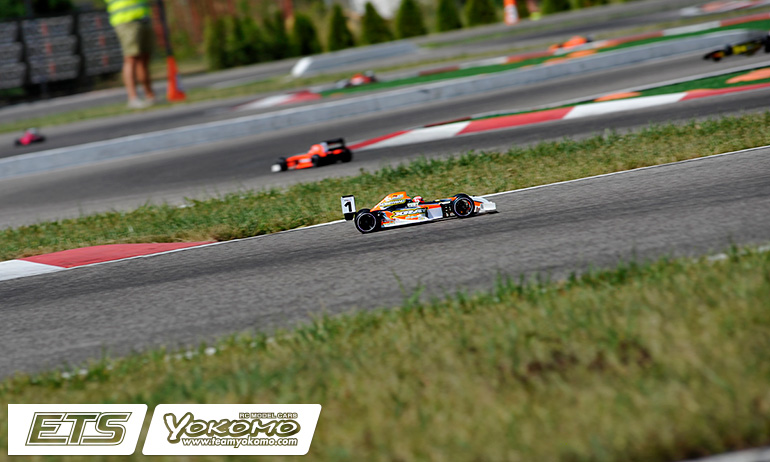 In the battle for the last title to be decided, Formula, Jan Ratheisky made it back to back Championship success when he back up his A1 win from yesterday with another win over his title rival & former champion David Ehrbar.  Ehrbar, who had to get by Jitse Miedema after the Infinity driver got him on the opening lap, was on a mission at the controls of his Serpent over the closing laps setting the only 20-second lap of the final but he ran out of time having got the gap down to 6/10ths.  In the Pro Stock, already crowned Champion & Top Qualifier Simon Lauter held on for the win just ahead of Dominic Vogl and Jan Ratheisky which means Round 6 will be decided in A3.  In 40+ Masters, Alexander Stocker wrapped up yet another win in his successful title campaign with the A2 win over Toni Mateo. In Stock 17.5, the inaugural Champion of the class Daniel Pöhlmann also concluded his season with a ETS Slovakia win after backing up his A1 win with another easy win in A2.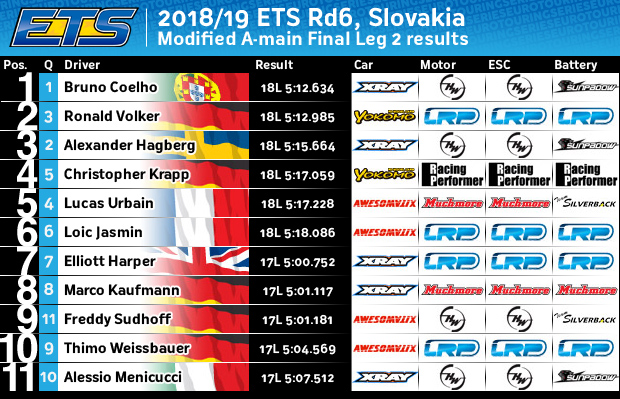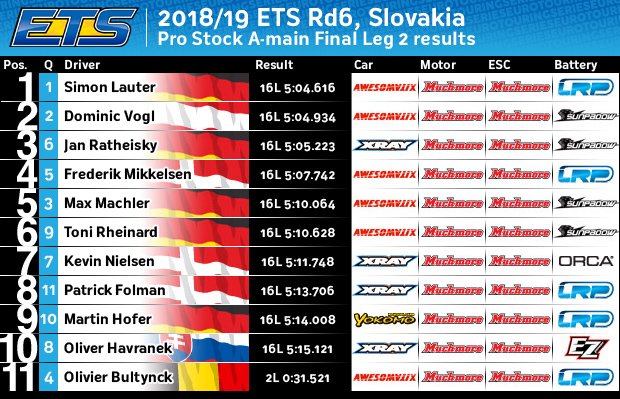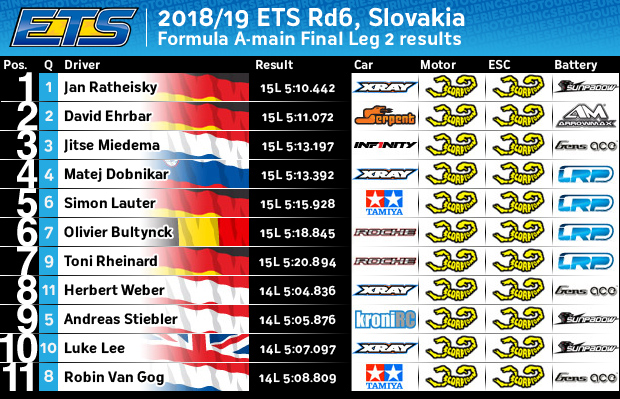 View complete event results here.
View our event image gallery here.
---