April 8, 2017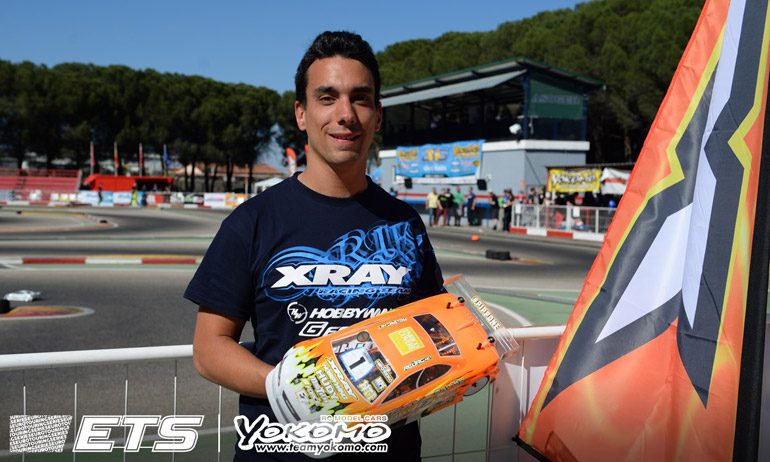 Despite Marc Rheinard taking a somewhat surprise second TQ in the final round of qualifying at ETS Spain, it is Bruno Coelho who is Top Qualifier on the championship's first visit to the country.  The Xray driver's second TQ of the season, having been on pole for the season opener, he claimed the top spot for the first outdoor race of the season thanks to his Q2 time being the fastest of the weekend.  Rheinard's best qualifying of the season, the German lines up ahead of Ronald Volker, the Yokomo driver struggling in the final qualifier and starting in an Infinity sandwich with Akio Sobue and Jilles Groskamp completing the top half of the grid.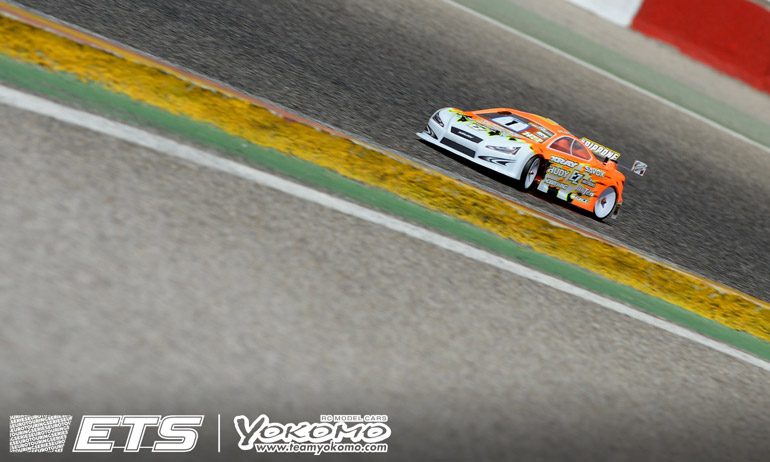 Going into final qualifying with one hand already on the overall TQ, knowing that it would take a miracle for Rheinard to beat his Q2 time due both the track conditions and the fact his rival was on used tyres, Coelho was pleased to bag an extra point for pole.  He said, 'For sure it is very good to get another point, all the points are very important, but on used tyres my car was very slow this time'.  Looking to the finals however the Portuguese driver said, 'we have a new set of tyres each final tomorrow and all weekend we have worked on the car for that so everything looks good for tomorrow'.  Asked about his expectations of the racing in the finals, he replied, 'for sure everything is open.  Marc is super fast and for sure he will push maximum to pass me but I know I have a good car.  So lets see what happens'.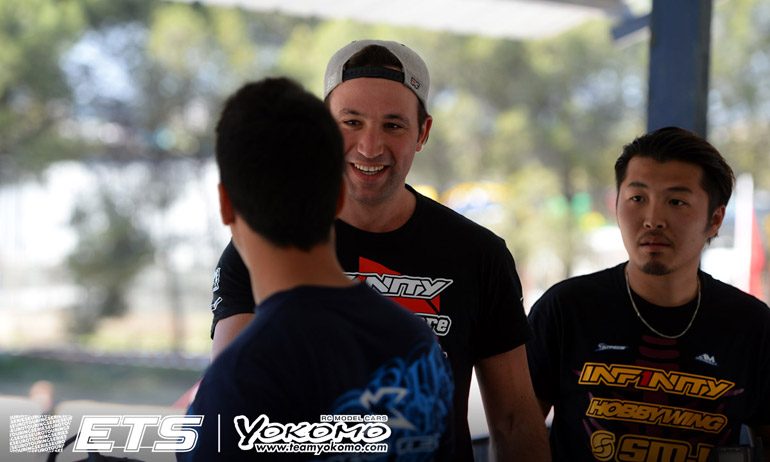 'Actually it was really good for old tyres' was how Rheinard summed up the final qualifier.  Using a combination of the rears from both his allocated sets of qualifying tyres, he said he was 'surprised' with the match working 'really good'.  Originally setting himself up to use his final heat more as a test opportunity rather than a qualifier, the 4-time World Champion tried a different shock piston on his ProtoTC which he said 'was better for me'. 'Looking forward to tomorrow', he concluded 'catching Bruno was not a bad sign'.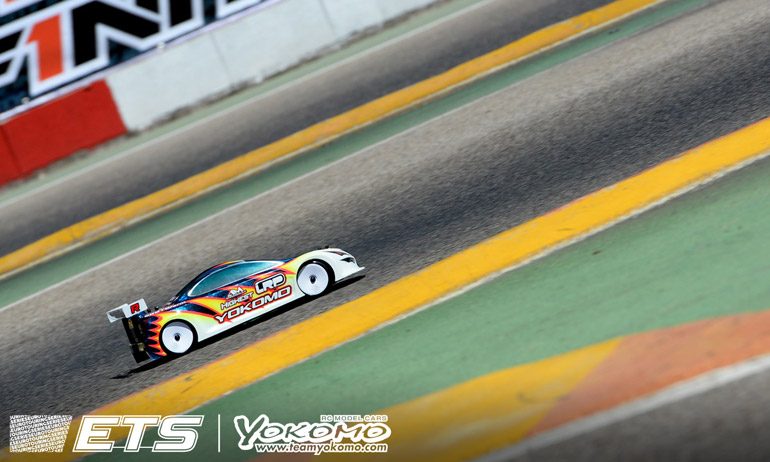 Having bounced back with his domination of Round 2 of the championship, Volker was clearly disappointed with how the transition to asphalt is working out this weekend. Having taken a surprise P2 in the second qualifier on used tyres, the World Champion said, 'this time used tyres were not good.  There was not enough forward traction'.  Spinning on his fourth lap, he said, 'with a lot of guys running new tyres it was clear after, that it was not going to be a valuable run for me'.  Not having the worry of used tyres for the finals, the ETS' most crowned champion said, 'its not too bad starting third but we need to step the game up in order to go up in the final tomorrow'.  Asked about passing opportunities on the large track he felt the right side presented some places but only if you can force the driver in front into a error'.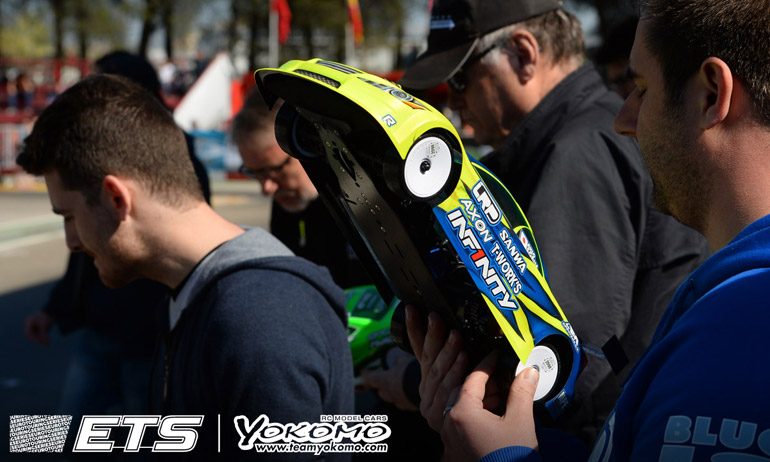 Getting fourth on the grid with his Q1 and 2 results when he was on new tyres, Sobue said his car was so loose, something wich was due to a set-up change he didn't like and being on used tyres.   Describing his own starting position as 'OK', the Japanese driver was 'happy' that all four of the Infinity factory drivers had made the final – fellow countryman Naoto Matsukura making his first ETS A-Main in a very long time by qualifying 10th.  A better starting position was on the cards for Groskamp but the 2014 World Champion crashed while on a Top 3 pace in the final qualifier.  Sobue said while he believes it will be hard to overtake that wont stop him from trying, him confident he has a competitive car on new tyres.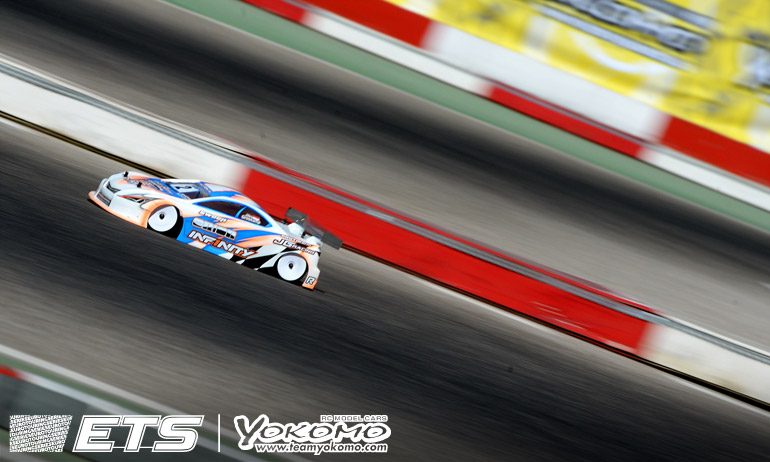 'I'm super happy to make the final and even more happy that Marc could challenge Bruno.  4 cars in the final and 3 in the Top 5 is a great result for the team', was Groskamp's overview of qualifying.  The Thailand based Dutchman said, 'I used my new tyres in Q1 & 2 so running against guys on new tyres it was hard to get a good run although Marc did it with using rear rear tyres.  I didn't do it'.  Getting a P10 for the last qualifier, he said, 'this was the maximum I could do'.  Asked his opinion on how the finals might pan out he replied, 'On new tyres my car is really good now so I'm looking forward to tomorrow but I think it will be really hard to overtake.  If no one crashes it will just be a train.  Marc challenging Bruno in the final qualifier shows our car has really good grip and I think Marc has a real chance tomorrow'.  Starting behind Groskamp will be Yokomo protege Naoki Akiyama, new tyres allowing the Japanese driver to claim a P2 in the final qualifier and bump him up into the A-Main pushing out team-mate Christopher Krapp who takes the BQ.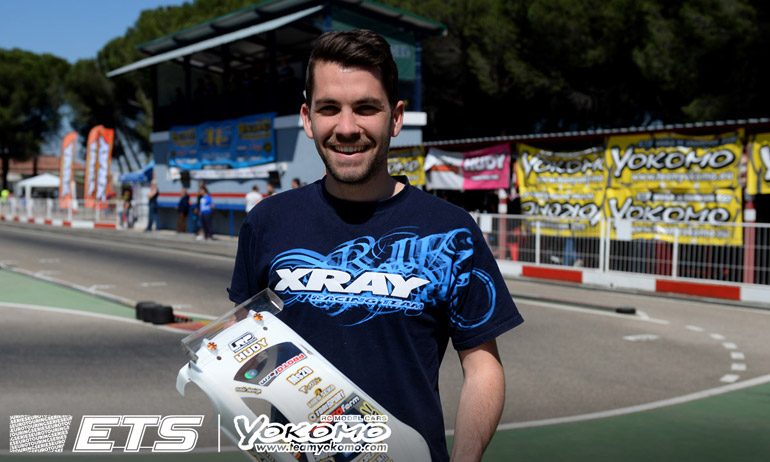 In the Xray Pro Stock class it is also an Xray Top Qualifier as Alexandre Duchet starts on pole, like Coelho, thanks to taking the opening two rounds of qualifying.  Taking the final qualifier, Champion Jan Ratheisky starts second with Nicolai Lindegaard making it an Xray lockout at the front.  Taking the third qualifier, the Tamiya of Round 1 Top Qualifier Christian Donath starts fourth.  In the Scorpion Power Formula class Olivier Bultynck gave Team Shepherd their first ETS TQ ahead of Infinity driver Jitse Miedema and back to back champion Ratheisky.  Having won the opening two rounds of the season, three in a row is looking a big ask in Madrid for David Ehrbar as the Serpent designer starts 7th on the grid.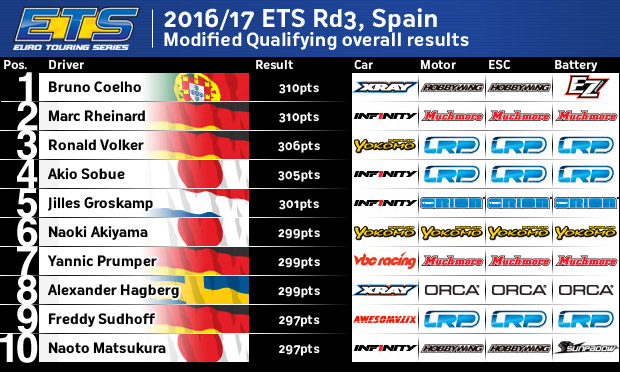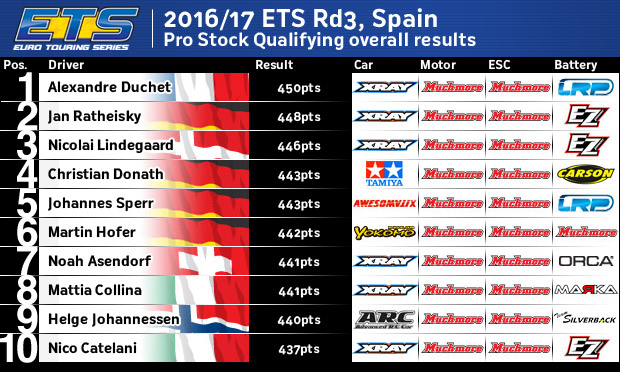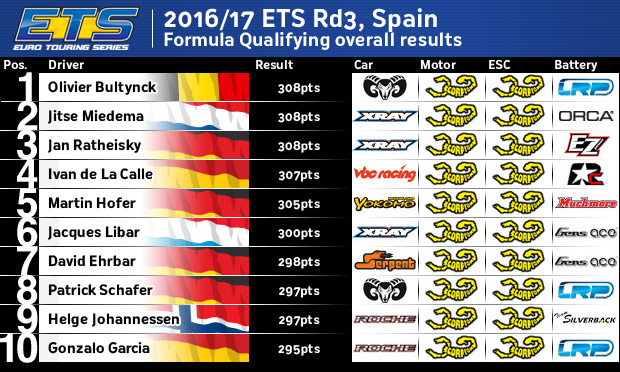 View the complete event results here.
View our event image gallery here.
---