March 7, 2009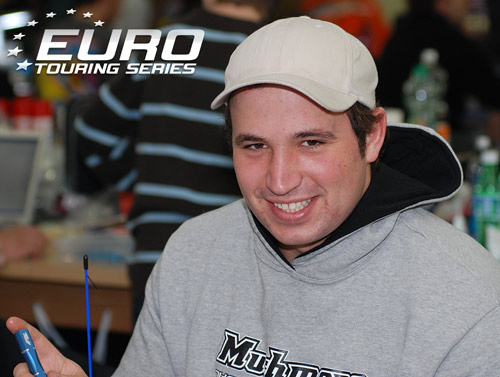 Marc Rheinard has topped the first qualifier for the third round of the Euro Touring Series.  The German who won the 2008/2009 ETS opener at Kastellaun, just narrowly pipped team-mate Jilles Groskamp with the pair seperated by just 7/100th after 27 laps.  Rheinard, whose Tamiya started to get very loose in the last minute of the heat, benefited from mistakes by his rivals with most of the front runners rolling their cars during the run. Groskamp traction rolled his Speed Passion powered TRF416 coming in the chicane on his penultimate lap costing him 2 seconds.
Taking third for the round, Teemu Leino was top Xray despite a costly 3 seconds mistake.  The Finn plans to change shocks on his factory Team Orion powered T2'009 as he could do with a little more steering.  Making it three manufacturers in the Top 4, Hot Bodies team driver Andy Moore had a strong heat recording 27 laps in 308.08.  Setting the third fastest lap time of the round the former World Champion could have been fastest but for some issues with traffic.
Fastest in practice Yannic Pruemper was again the fastest man in terms of lap times being the first to break 10 second with a 10.98 time.  The young sensation was looking very strong for TQ honours but on lap 18, having just posted his fastest lap, made a mistake over the dots launching his car into the barriers costing him a massive 4 seconds.  Another incident while lapping traffic cost him further time. Completing the Top 6 was current 1:12 European Champion Hupo Honigl from Austria.
In Pro Stock Daniel Wohlgemuth was the clear pace setter finishing 8 seconds up on Meik Niemann, the two Germans the only drivers to record 25 laps.  Czech driver and ETS Round 2 podium finisher Jakub Plechac completed the Top 3 ahead of Slovak young gun Zdenko Kunak.
View our image gallery here.
---