December 6, 2008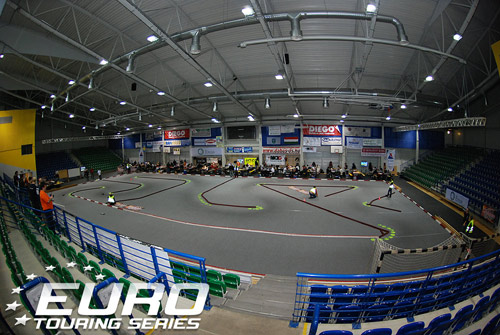 The Euro Touring Series is in new terrority this weekend as Hungary hosts the second round of the 2008/2009 Much More backed series, and the host club have made a strong first impression choosing a excellent facility in which to hold the indoor carpet event.
Heading the entry here in Budapest is reigning ETS Champion Jilles Groskamp. Fresh from a vist to the Tamiya factory in Tokyo, the Worlds Finalist will as normal face opposition from a Rheinard but not the new World Champion. Marc is taking a well earned break following his amazing Touring Car World title victory in Thailand three weeks ago. Instead Groskamp will be up against Toni Rheinard who is a late entry to the event. Toni has borrowed one of his brother's Tamiya's for the weekend and is looking forward to battling with the Dutch racer who he is pitting next to.
Others who will be looking to take the challenge to Groskamp's Tamiya TRF416 World Edition is former team-mate and factory Xray driver Martin Hudy.  Martin, along with his father Juraj who is the creative mind behind all Xray's cars, is making his first appearance in the Euro Touring Series. Another quick Xray will be that of Dutch National Champion Bart Wubben who is one of a large contingent of Dutch racers who have made the trip East to Hungary this weekend. Wubben made an impressive debut with the T2 at the series opener in Kastellaun and having had more time with the car since then should be a stronger podium challenger here.
Gabor Forrai and Balint Rajki are local drivers who will be looking to impress here on home soil and aiming to make sure the visiting Pros don't have it all their own way.
Current Vice-Champion George Spitteler heads the Pro Stock entry.  With defending Champion & Kastellaun winner Alexander Stocker absent this weekend, the Dutch Toyko Optional Products team driver will be looking to capitalise.  All cars competing in Pro Stock are running handout 9.5T motors from series sponsor Speed Passion.
In addition to the normal Modified and Pro Stock categories that form the Euro Touring Series, which also enjoys support from Hot Bodies, the Hungarian leg will feature three other classes to reflect the national racing scene in the country. These are the 13.5 turn Touring class, the 10.5 Lipo Touring and the superb looking Formula 1 class.
Drivers will have five rounds of qualifiying, four of which are scheduled for today, which will determined the grids for Sunday afternoon's triple Mains.
Check out our image gallery here.
---